By:
Chet Ram Meena, Nitin Ajmera* and Pranaya kumar Sabat
Abstract:- Medical textiles are one of the most rapidly expanding sectors in the technical textile market, according to reports, and hosiery products with medical industry applications are among a long list of textile products being consumed in that market.
An important field of application of textile in medicine has been developed such as wound care and preventing chronic wounds. Bandages and wound dressings are most commonly used because they are affordable and reusable. The medical textile should have bio-compatibility, flexibility and strength.
Introduction: -
Combination of textile technology and medical sciences has resulted into a new field called medical textiles. New areas of application for medical textiles have been identified with the development of new fibers and manufacturing technologies for yarns and fabrics. Development in the field of textiles, either natural or manmade textiles, normally aimed at how they enhance the comfort to the users. Development of medical textiles can be considered as one such development, which is really meant for converting the painful days of patients into the comfortable days.
Constituent element of Medical Textile products:-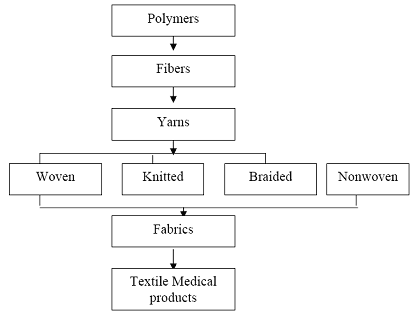 * Nitin Ajmera
M. Tech (Fibers and Textiles Processing Technology)
UICT, N.P. Marg, Matunaga (E), Mumbai-19
Mob No-093238 36731