A growth rate of over 18% to 20% is expected in India for the sanitary napkins market, which holds a huge potential and excellent profit margin for the manufacturers, say B. S. Pancholi and Dr. Sandeep R. Naik.
Today, the global market for absorbent hygiene products is over US$ 50 bn (including wipes). The evolution of hygiene products in Europe and the North America has taken 4 to 5 generations. Feminine care was introduced over 100 years ago. Baby diapers were invented 60 years ago. Adult incontinence products appeared 30 years ago.
Feminine hygiene (lady napkins) is hygiene absorbent products engineered to absorb and retain body fluid without causing any leakage. The user should always feel dry and comfortable. It consists of an absorbent pad sandwiched between two sheets of nonwoven fabric.
There are 3 major types of products, viz, (a) Thick sanitary napkins. (b) Ultra thin sanitary napkins. (c) Panty liners being used in the market. The size of each and their content vary from market to market.
Global market status & potential
The menstrual cycle starts for young women between the ages 11 - 17, frequently around 12-1 3 years. On average a woman experiences a period every 28th day, 12 - 13 times in a year. A menstrual period normally lasts 3 - 7 days. The loss of fluid in a period is on average half a cup or 65 - 80 ml. The menstrual pattern is influenced by giving birth and contraceptive methods. Menstruation lasts until menopause at the age 45 - 55. The feminine hygiene products market has evolved over more than 100 years to a more than US$ 17 bn in the following category worldwide as referred in Table 1.
Per capital consumption of feminine hygiene products is illustrated in Table 2.
Some of the established and potential manufacturers of sanitary napkins are listed in Table 3.
Market status & potential in India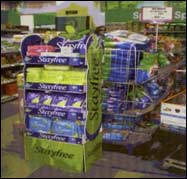 As regards consumption of total hygiene, absorbent products in India, total units consumed in 2007 in India were 2,829 million pieces. Baby diapers comprised 5% whereas adult incontinence 1% and feminine care share is 94%. Past projections and future projections of women population in category of 15- 54 years age is tabulated in Table 4.
If we see the above projections of women in the category of 15 - 54 years in India and the details of sales of absorbent hygiene products in India, then the total sales were US$ 213 million in 2007, out of which adult incontinence share was 9%, baby diapers share was 18% whereas feminine care contributed 73%. Thus, in India, the evolution is expected to go quicker.
Structure and composition
Sanitary napkin products:
Function
Sanitary napkins are designed to absorb and retain menstrual fluid discharges. When used they are applied inside an undergarment with a press-on adhesive fixing strip.
Main functions/key elements of sanitary napkins are absorb and retain menstrual fluid, isolate fluids from the body, no leakage, no unaesthetic appearance, no odour, stay in place, comfortable to wear. Key criteria for success are hygiene, performance, comfort, convenience and aesthetics as tabulated in Table 5.
The structure of typical samples is given below: