Introduction
The basis of tissue engineering is to develop or regenerate new tissues from the organ (or tissue) of interest on porous, biodegradable scaffolds by culturing isolated cells. A 3D structure that aids in the process of tissue engineering by providing a location for cells to attach to, proliferate in three dimensions, distinguish and secrete an extra-cellular matrix, ultimately leading to tissue formation, are known as scaffolds. The scaffold acts as an extracellular matrix for cell adhesion and regeneration or growth.
Usually, scaffolds serve at least one of the following purposes:
1. Enabling cells to attach and migrate
2. Allow diffusion of vital cell nutrients
3. Deliver and retain cells and biochemical factors
4. Exert biological and mechanical influences to alter cell behaviour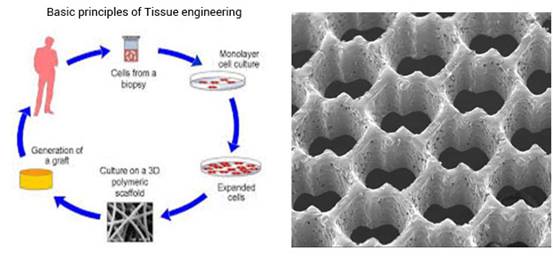 A tissue scaffold is a highly porous, artificial cellular matrix. Because of their inherent properties, textiles have a major role to play in making this scaffold. A scaffold can be broadly categorised into three groups based on the processing methods: foams, 3D printed substrates and textile structures. Textile structures form an important class of porous scaffolds used in tissue engineering.
| | |
| --- | --- |
| Tissue engineered biological substitute | Scaffold structures |
| Bladder | Nonwovens |
| Blood vessel | Woven, knitted, braided, nonwoven |
| Bone | Nonwovens, foam |
| Cartilage | Nonwovens |
| Dental | Foam (porous membrane), nonwoven |
| Heart valve | Woven, nonwoven |
| Tendon | Woven, nonwoven |
| Ligament | Yarn, braided, nonwoven |
| Liver | Foam, nonwoven, 3D printed |
| Nerve | Foam, nonwoven |
| Skin | Foam, woven |