Currently the world over, safety jackets being used are mainly reflective type of jackets that have a very high visibility when light falls on them. These are used by professional who are required to work in conditions of low visibility. These jackets however fail to deliver their functionality when there is no light incident on them. Thus glow in the dark jackets, which are essentially jackets with a coating of photo luminescent pigment, assume great importance.
As new pigments are developed for the self-illuminated jackets, it will improve the functionality of the product and make it a more broad-spectrum product and one for the future.
Safety Jackets
Most of the safety jackets have a reflective strip that reflects light in conditions of low visibility. These jackets are however of no use in habitats where there is no incident light, for example a mine or a dark street or railway track, as shown in Fig 1.
Fig1: Reflective type safety jackets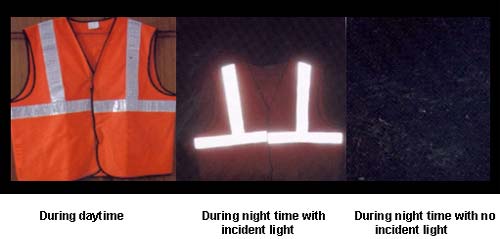 To overcome this shortcoming of the reflective type of jackets, we have developed a photo-luminescent fabric. Strips of this fabric can be cut and stitched on jackets along with the reflective strips so that these become visible during night under very poor visibility conditions in the absence of an incident light as shown in Fig 2.
Fig2: Self illuminated safety jackets