Vegetable fibres come with their own blessings. They are biodegradable and cheaper, pose no health hazards and provide a long-awaited solution to environmental pollution by finding new uses for waste materials. For this reason, regenerated fibres, which are alternatives to conventional ones, have gained importance in the manufacture of apparel and home textiles.
Sida rhombifolia belongs to malvaceae family and it is known for its high medicinal value. Unfortunately, little focus has been given to the use of high quality fibres of the stem. In Niger, the fibres are used to make fishing lines and nets and in the Central African Republic, they are used to make large hunting-nets. In Cameroon, the fibre is used to make ropes to lash firewood. What make the plant so useful to humanity are the stems which have a high quality fibre and were once exported from India and elsewhere as hemp.
Preliminary studies on the tensile properties of sida rhombifolia reveals similarities with jute, hemp and kenaf fibres but the difference lies in the medicinal value of sida rhombifolia. It is an example of bast fibre as the fibres are extracted from the plant stem. The fibres are bundled and have almost the length of the stem. They are relatively strong. The fibres are extracted through the water retting process. Bast fibres are generally prickly, and to overcome this problem, attempts were made to soften the fibre with suitable enzymes.
One of the latest developments in new fibre researches is the use of bamboo fibre in various textile products that has been used in construction materials, decorating items and furniture and used for composite materials for many years. Bamboo grows well in tropical regions and matured fibres are extracted after two to three years. Like sida rhombifolia, bamboo fibre is also medicinal although the medicinal content of sida rhombifolia fibre is more than that of bamboo fibre.
Disposable diapers have been available since the 1940s and account for the major part of sales in the market. Companies are working on achieving sustainable, good quality products capable of meeting demand. Among other parameters considered in the performance of baby diapers, retention capacity or absorbency is the most important. Absorbent products such as cotton, pulp and sponges can hold 20 times its weight and super-absorbent products such as polyacrylate can hold 800 times its weight. In this study, sida rhombifolia fibre/bamboo fibre will serve as the absorbent product and in addition, the medicinal value such as anti-bacterial properties of both fibres could also be exploited.
Materials and Methods
The materials were used in the comparative study were sida rhombifolia fibre, scourzymes and Cellusoft CR obtained from Novenzyme, regenerated bamboo fibre, top sheet of non-woven material, back sheet of impermeable material.
Methods:
Fibre Extraction
Sida rhombifolia fibres were extracted by water retting. The cut stems were tied into bundles, the leaves removed as much as possible, and the bundles submerged in water for retting. This is the process by which the bundles of cells in the outer layers of the stem are separated from the woody core and from non-fibrous matter by the removal of pectin and other gummy substances. The action involves water, microorganisms, and enzymes, and takes between 14 and 20 days to complete, depending on the temperature of the water. The fibre was washed and dried under the sun for 24 hours.
The inner pith from a hard bamboo trunk was extracted and crushed. The crushed bamboo cellulose was soaked in a solution of 15 per cent to 20% sodium hydroxide at a temperature of between 20° and 25° for one to three hours to form alkali cellulose. Excess sodium hydroxide solution was removed from bamboo alkali cellulose by squeezing. The cellulose was treated with 5% HCL to neutralise sodium hydroxide concentration. The cellulose was thoroughly washed and then dried under room temperature for three days. To increase the surface area of alkali cellulose for easier processing, it was shredded in a grinder.
Softening of sida rhombifolia fibre
Sida rhombifolia fibre was softened through mechanical cutting and opening, bio-scouring and bio-polishing. The retted fibres were cut into staple fibres and then opened using the Carding opener. During bio-scouring, sida rhombifolia fibre was treated with 8g/l scourzymes in the presence of wetting agents, emulsifying and chelating agent and at a temperature of 55-60° and pH 8-9. During this process, substances such as lignin, pectin and other impurities were eliminated and the fibre became clea and soft. In the bio-polishing, sida rhombifolia fibre was treated with 9% cellusoft CR in the presence of wetting agent and at the temperature of 50-55° and pH 4.5-8. This treatment aimed at continuing to soften the fibre. The fibre softness was evaluated as per ASTM D 1448 standard.
Total Absorbency
Total absorbency, which measures the water holding capacity of the fibre, was determined with distilled water. A sample of 10g of fibre was dipped in the solution for five minutes, and then was lightly pressed to allow any extra water to drop down. It was then weighed and the percentage gain in weight of the fabric sample was taken as a measure of the total absorbency of the fibre. Absorbency of ten samples of each fibre was evaluated and the mean percentage was calculated. Fibres were conditioned in a standard atmosphere for 24 hours before all the tests were carried out.
Blending of fibres to produce finished product
To obtain a non-woven absorbent product, 50 per cent of sida rhombifolia fibre was blended with 50 per cent of regenerated bamboo fibre. After the homogenous mixture of both fibres, softness/fineness property was investigated and the total absorbency was equally tested. In addition to the natural anti-bacterial properties of bamboo and sida rhombifolia fibres, the product was treated with neem oil to enhance its anti-bacterial properties.
Designing disposable diapers
The sample disposable diaper (Figure 1) consisted of four layers. The first part of the diaper is the layer in contact with the skin. This is called a top sheet and is typically made of hydrophilic non-woven materials. The top sheet is hydrophilic to enable fast absorption of all liquid that is in contact with the wearer's skin, and to keep the skin dry.
The second part is called a distribution layer. This layer is what drains the top sheet of moisture. The distribution layer also disperses all the liquid from the top sheet as much as possible to increase the contact area of the absorption core, and keep the core from getting locally saturated. The distribution is made of two layers of hydrophilic non-woven polyester. When the product is subjected to external pressure between the top sheet and the absorption core, the distribution material should work as a protection. The distribution layer with good mechanical properties prevents liquid from easily traveling through. This protects the user from retention.
The third layer is the absorption core, made of sida rhombifolia fibre/bamboo fibre which serves as SAP (super absorbent polymer) and pulp. The fourth layer consisted of impermeable coated material.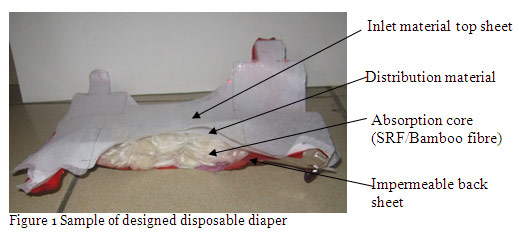 Results and Discussions
Softening of sida rhombifolia fibre: Sida rhombifolia fibre was successfully softened through bio-scouring and bio-polishing (Fig. 2) and bamboo fibre was softened through alkaline treatment (Fig. 3).


After chemical treatment of both fibres, they became finer and softer subjectively. This property was investigated objectively according to ASTM D 1448 standard of evaluating cotton fineness. Figure 4 presents the results of the investigation.
DCH-32 cotton is very good quality cotton in terms of fineness and softness and it was used as a control sample in the experiment. The lower the micronnaire value, the finer the fibre. Fine fibres are softer than coarse fibres. Hence, one can conclude that BF becomes finer and softer than SRF, after softening.
Total Absorbency: The total absorbency of both fibres was tested and the results are presented in Table 1 and Figure 6.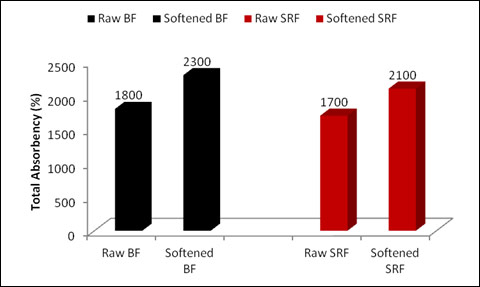 References
1. Konat, K., F.M. Jacques, O. Maurice, N.L. Alexis, S. Alain, B. Nicolas and M.B. Bertrand, Preliminary toxicity study: Anti-nociceptive and anti-inflammatory properties of extracts from sida rhombifolia L (Malvaceae),Int. J. Pharmaceut Sci. Res., Vol. 3(9): 3136-3145, 2012.
2. Holm, L., J. Doll, E. Holm, J. Pancho, and J. Herberger, World Weeds: Natural Histories and Distribution, John Wiley and Sons, Inc. New York, p1129, 1997.
3. Nkemaja Dydimus Efeze, K. Murugesh Babu, Njeugna Ebenezer and Vrushabhendrappa, Sida Rhombifolia a natural fibre good for textile and craft industry, Textile Asia, Vol. 43. PP. 16-19, 2012
4. Sarangi RR., Mishra US., Choudhury PK. Comparative In vitro antimicrobial activity studies of Sida rhombifoliaLinn fruit extracts.
5. Erdumlu N., Ozipek B.; Investigation of Regenerated Bamboo Fibre and Yarn Characteristics. FIBRES & TEXTILES in Eastern Europe.
6. Henrik Hamastrand, Measurement of retention in baby diapers, Department of chemical and biological engineering CHALMERS UNIVERSITY OF TECHNOLOGY Gothenburg, Sweden, P8-13, 2013.
7. S.SAKOHARA, F.MURAMOTO, M.ASAEDA M. Swelling and shrinking processes of sodium polyacrylate-type super-absorbent gel in electrolyte solutions. Journal of chemical engineering of Japan.1990;23:119-124
8. GK Tyagi, S Bhattacharya & G.Kherdekar, Comfort behaviour of bamboo woven Cotton ring in MJS yarn fabrics, Indian Journal of Fibre and Textile Research
9. Wang Y & Gao X, study on structure of the nature bamboo fibre, paper, presented in the Textile Institute of 83rd world conference, Shanghai, China, 23-27 May 2004.
10. L.Y. Mwaikambo and M.P Ansell, The effect of chemical treatment on the properties of hemp, sisal, jute and kapok fibres for composite reinforcement, 2ndInternational Wool and Natural Fibre Composite Symposium, Kassel, Germany.
11. M.M. Ibrahim, W.K. El-Zawawy, G.A.M. Nawwar. Modified kaolin and polyacrylic acid-g-cellulosic fiber and microfiber as additives for paper properties improvements. Carbohydrate polymers; Vol 88 P1009-1014, 2012.