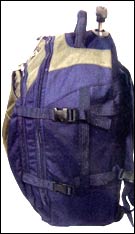 Coatingand laminating are important value addition processes, say B.S. Pancholiand S R Naik, who lay down the techno-commercial aspects of packtechproducts like soft luggage, and clothtech products like protective garments.
Suratis known for manufacturing of synthetic and man-made fibre fabrics and producesapproximately 50% of synthetic/man-made fibre fabrics manufactured by theentire powerloom industry in India. As far as machinery & other equipmentare concerned in Surat region, there are approximately 4,000 water-jet looms,2,500 rapier looms used for dress materials, sarees and home textiles andapproximately 2,000 shuttle-change auto looms with dobby attachments. The number of projectile and air-jet looms islimited to 50 or so.
Asfar as various other products are concerned, Surat is already manufacturingtaffeta cloth, filter cloth, umbrella cloth, bolting cloth, home furnishingusing nylon, polyester, and cotton fibres on conventional and auto shuttle lesslooms for domestic market.
Themarket size and potential of technicaltextiles component of India has been estimated at Rs. 29,579 crore in 2007 -08. Garments (interlining, lace, protective textiles) and packaging account forover 50% of the technical textiles market. Present status of technical textile products is revealed in Table 1. About 400 outof 855 units are based in Surat, manufacturing low-end narrow width fabrics.
Detailsof raw material and machinery required for start-up and production of coatedwoven textiles are given in Table 2.
Whatis coating?
Coatingis carried out to impart certain desired characteristics and functionalities to woven, knitted ornon-woven materials. One or two sided application of coating compounds is doneon foam films to woven fabric, knit goods, non woven fabrics and such applicationof coating compounds is imparted by means of roller system, knife coating,hot-melt and transfer coating methods.
Coatedfabrics may be constructed using woven,knitted or non-woven fabrics.
Coating and lamination is gaining ground worldwide as a means for value addition and the factors that drive their usage are: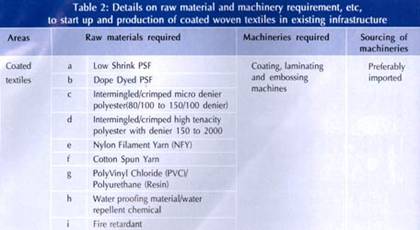 Surface engineering (coating & lamination) allows a base material to be chosen for a particular set of attributes (weight, cost, corrosion resistance, thermal capability) while the surface has a different set of properties (hardness, electrical resistance or conductivity, mating characteristics, thermal transfer or shielding).
Coatings have also facilitated the development of entirely new products and have led to innovations in the area of "Smart" materials. Coating and lamination cuts across virtually every product group in the textile industry, including composites, where the potential is especially broad.
Coatings enable significant cost savings when compared with solid materials of like composition.
Coatings can be tailored to application specific requirements quite readily and usually at low cost.
Approximately 100 material types of various grades and strengths are used as core materials (substrates) for coated fabrics: silk, cotton, polyamide, polyester, polyaramid, glass fabric, carbon fabric and metal.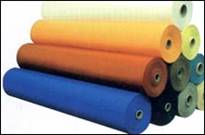 Coated fabrics have wide applications in fields such as medical substrates, protective clothing, flexible membranes for civil structures, airbags, geo textiles, industrial fabrics, defense, transportation, healthcare, architecture, space, sports, environmental pollution control, and may other diverse end-product uses. Extensive research is being done on a global basis, and many new products, such as breathable fabrics, thermochromic fabrics, and charcoal fabrics, are entering the market.
The most frequently used method is coating by means of knife blade coating.
An air knife is used to metre the coating compound above the freely spread fabric web. This method is used for fine coatings and primer coatings at 5 to 50 g per metre (g/m). Air knives may be used over a roller to metre the coating compound at application rates of 30 to 500 g/m. The coat thickness depends on the distance of the air knife from the substrate surface. For very heavy thickness, air knife is used over a rubber cloth or table to metre the coating compound.
Besides the classic knife application methods, there are also numerous other methods:
Impregnation or dipping method: The carrier material is led through an immersion trough which holds the liquid coating compound.
Slop-padding process, roll coating: The carrier material takes on the coating compound from a roller that turns through a bath (direct roll coating). This can also take place via roller systems. Dosing is by wiping off the slop-pad roller or the coated goods. If the paste reservoir is located in the angle between two rollers, this is termed as the roll coating method (reverse roll coater).
Hot melt method: With this method, granules and powders are melted between two rollers or prepared viscous plastic compounds are used, which are plasticised by the heat of the rollers. Between the calender rollers, which can be arranged in various ways, films form which can be transferred to the goods via the rollers. Hot melt adhesives are thermoplastic, based on the polymers that become liquid between temperatures of 800 C - 2200 C and solidify again by cooling down. Ethylene vinyl acetate, polyamide, polyurethane reactives are generally used on hot melt additives for hot melt coatings. It is important to handle the system carefully. The coating head is positioned near to the substrate to avoid any temperature changes of the hot melt due to cold air flow.
Powder application method: Here, powdered thermoplastic synthetic polymers are scattered and formed into adhesive melts. This coating technique can be subdivided into two groups: the dry method and the wet method, which are used particularly for interlining fabrics for clothes. Generally, machines available for application of dot coating from 3 to 40 g/m2 while multi-roller application systems can deliver full and open cover structure lamination/coating from 5 to 150 g/m2.
Coating polymers
The coating compounds are formulated on the basis of rubber or film forming synthetic polymers with solvent and water being used as second phase. The synthetic polymer dispersions and solutions, used as coating compounds, are manufactured on the basis of urethanes, esters, vinyl chlorides, etc. Natural latex is the only natural product in this range. The chemical and physical properties of the dispersions are varied and are according to the application area. An important step in the production of technical packtech products and protective garments is the finishing of the fabrics, especially by coating. The minimum film formation temperatures, hardness and elasticity of the films, as well as their resistance to water and to organic solvents, must not be ignored while selecting the proper coating polymer.
Poly Vinyl Chloride (PVC) is the most commonly used polymer.
However, in case of PVC coatings, despite the outstanding price performance ratios of PVC coatings on technical textiles, there is increasing interest in alternatives, which do not contain chlorine, because of their ecological acceptance. The monomeric vinylchloride is carcinogenic and there are problems with the recycling process due to the chlorine. Hydrogen chloride is released and the building of dioxine is possible under unfavourable conditions. Chlorine-free coatings, for instance polyacrylates and polyurethanes, have already been successfully applied. However, the new replacement coatings with equivalent properties to those of PVC, have not been able to achieve the economic efficiency of PVC. Some of the functional finishes and coating polymers are illustrated in Table 3.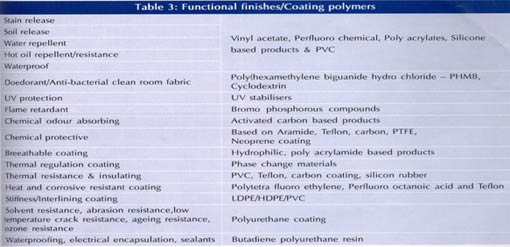 Polyvinyl chlorides are used to make waterproof garments, industrial clothing, ie, resistant to oil, grease and chemicals and to make bags that are sturdy. Teflon coated fabrics are high strength material used to make seals, gaskets, stain repellent and thermal resistant clothing. Special grade PU coating used for breathable fabrics as well as artificial leather. There is no unique solution to polymer choice in coatings because different materials can be used to achieve similar results in the end product. The manufacturer's choice of polymer is affected by polymer properties, polymer availability, cost analysis, coating equipment to be used, tradition, and environmental protection.
Choice of substrates
Popular textile substrates used for coating are polyester, cotton, viscose, polypropylene and also blended fabrics made out of these fibres. Characteristics such as tear strength, tensile strength, dimensional stability, and flexibility are heavily influenced by the choice of the textile fabric and the way in which it is constructed. The strength and weight of a fabric depend on the construction method, the size and weight of the yarn, and the number of yarns per unit area in the fabric.
Woven fabrics are very strong and are resistant to elongation. Knitted substrates allow the fabric to be stretched. Stretching allows for tear resistance, but the coating must be able to stretch and flex along with
Woven fabrics are very strong and are resistant to elongation. Knitted substrates allow the fabric to be stretched. Stretching allows for tear resistance, but the coating must be able to stretch and flex along with the fabric. Nonwoven fabrics are less expensive to produce but are not strong unless they are coated. Knitted and nonwoven base fabrics give very soft feel to the final coated fabrics.
Packtech and protective garments - project profile in brief (Details in Part-II)
a) Recommended product mix
Soft luggage and school bags (150 to 600 denier) interlinings, surgical gowns, wintchiters (80/ 100 to 150/100 denier).
b) Fibres used
Filaments intermingled/ crimped polyester micro (80/100 to 150/100 denier) are suitable in wintchiters, interlining fabrics. In case of soft luggage, high tenacity, crimped, intermingled yarns wilh denier ranging 150 to 600 are utilised based on end-use applications. In case of surgical gowns, intermingled crimped polyester filament as well as cotton can be used as base material.
c) Fabric construction details
Fabric construction details commonly practiced for soft luggage and protective garments, mainly writchit, water proof and flame proof garments, are shown in Tables 4 & 5.


d) Manufacturing process technology
In case of weaving, conventional, Jacquard and auto shuttle looms are suitable. Toyota, Textech, Tsudakoma are some of the known manufacturers of auto shuttleless looms.
After weaving, conventional processing sequences, viz, desizing, scouring, bleaching, heat setting, dyeing and printing are to be followed. This is feasible in existing infrastructure of process houses. Twice heat setting is recommended in all cases.
Coating
The technology for PVC and PU coating is quite straightforward. The machinery is standard but the formulation of pastes and resins used for coating is the key to success of the project.
The cost effectiveness of the compound, uniformity of final product and achieving desired final product properties in terms of life, fastness, strength, etc, is important part of knowhow. The recommended line is given below.
PVC in powder or granule form is mixed with Dioctyl Pthalate (DOP) (plastisiser) (KLJ-Vapi) in liquid form normally at 50:50 ratio. In case of polyurethane (PU), water base with thickener or solvent base (toluene) polymer in paste form are available.
Manufacturing process
Printing and Embossing Stations can be done off line, in subsequent process.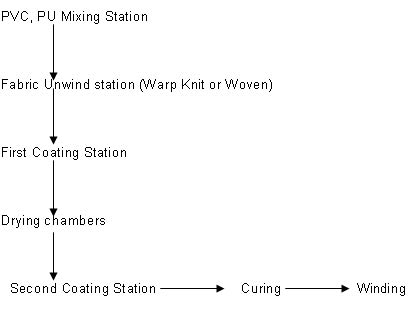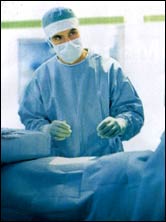 With an oven length of 1 2 metres after each coating head, a production speed of 12 metres per minute can be achieved for most of the products considered above (for single coating only).
Manufacturers of coating and laminating plant
1. Stork Prints, Netherlands. Local Agency: ATE Marketing Pvt Ltd, A-19, CTS No: 689, Veera Desai Marg, Andheri (West), Mumbai 400 053, Tel: 5676 6100.
2. Brueckner Trockentechnik Gmbh & Co KG, Germany. Local Agency: ICC International Agencies Ltd, 51, Udyog Bhavan, Sonawala Lane, Goregaon (West), Mumbai 400 063, Tel: 5668 1173/74.
3. Herbert Meyer Machines Gmbh, Germany. Local Agency: R R International, M-59, South City-1, Gurgaon 122001, Haryana, Tel: 124-238 0962.
4. Coatema Machinery Gmbh, Germany.
5. Monti Antonio SpA, Italy.
6. Zimmer Maschinenbau Gmbh, Austria.
7. Mathis (Swiss).
8. Web Processing (UK).
There are Indian machine manufacturers. However, for particulars of certain niche products, imported machine is preferable.
Names of Indian machine manufacturers
1. Yamuna Machine Works Pvt Ltd, Vapi.
2. Patkar Extrusion Ltd, Ankleshwar.
3. Patel Industries, Vapi.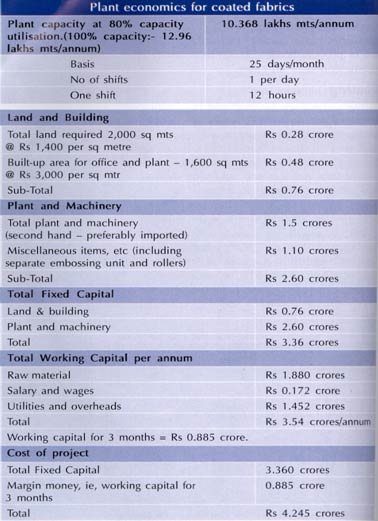 Raw materials
Woven or warp knitted fabrics - 50 to 150 g per sq m made from polyester/nylon filament yarn.
PVC emulsion or powder grade.
Water based PU emulsion.
Fillers like CaCO3 China Clay, etc.
Plasticiser.
Additives: Pigments of different colours; Stabilisers.
Suppliers of PVC
1. Chemplast, Chennai (approximately Rs 80 per kg).
2. Finolex, Pune.
3. Solvay, Belgium.


PU
1. Stahl Chemicals, UK.
2. Schill and Silacher, Germany (approximately Rs 200 per kg).
3. IIsung Chemicals, Korea.
Stabilisers
1. ]V Organics.
2. ClBA.
Pigments
1. Sudarshan, Mumbai.
2. Pidilite, Mumbai.
3. Meghmani, Ahmedabad.
4. Clariant, Mumbai.
Plasticiser
Dioctyl pthalate, price approximately Rs 35/ kg, KLJ - Vapi.
Some of the manufacturers of coating chemicals/finishing agents
1. Dow Corning Corp, www.dow.coming.com. coating chemical systems.
2. Alco chemicals, www.alcochemical.com. coating chemicals.
3. OMNOVA Solutions, www.omnova.com.
Acrylic based durable stain release systems, fluorochemicals for oil and water repellency and soil release.
4. Piedmont chemical industries, www.piedmontchemical.com. FR finishes/ coatings conc thermoplastic resins.
5. Ciba Speciality, www.cibasc.com.FR coating chemicals.
6. Water repellent finish, M/s Asahi Guard, Japan (approximately Rs l,200/kg).
7. Flame retardant finish,(price: approximately Rs l,300/kg) - Korea.
PVC and coated fabrics are widely popular in hand luggage, shoe uppers, interlinings, while polyurethane is used in soft luggages and artificial leather fabrics used in home and moulded furnishing and clothtech.
These products are engineered by selection of right type of base cloth and compounding of PVC to have the right weathering, print absorption and abrasion properties. The coating is done generally by a Direct Knife coating technique.
In case of protective garment market, PU coating is preferred along with water repellent and fire resistant finish treatment. Surgical gowns and bed sheets are produced from one side PU-coated cotton fabrics with water repellent and fire retardant treatment.
Shoe uppers made of PVC and PU coated fabrics have made the footwear manufacturing very cost effective. The quality of weathering and feel of the product nearing leather has made PVC and PU coated fabrics most preferred material. The range of colours, surface finish and ease of manufacture has made these products most suitable for mass production. In all cases water repellent finishing is essential. Generally, in case of compact weave, which is used in soft luggage and garments PVC or PU coating add-on required is less and fabric appearance and feel will be soft. However, in open structure, add-on required is high. Therefore, fabric feel is harsh and stiff.
In case of blackout finish, minimum four coatings are required. First coat is carried out using PU/ PVC, along with black pigment and subsequent coatings will be of PU and PVC coating using white pigments. The following is the summary of a project profile on coated textiles with following assumptions: (i) Fabric width: 1,500 mm (ii) Machine can be used for PVC or PU material (iii) Machine speed is 12 m/min (two passes) (iv) 300 working days of 12 hours per day etc.
(The authors acknowledge with thanks the Director and Management of MANTRA for giving permission to publish this paper).
About the Author:
The authors are with the Manmade Textiles Research Association (MANTRA) Surat, Gujarat.
To read more articles on Textile, Industry, Technical Textile, Dyes & Chemicals, Machinery, Fashion, Apparel, Technology, Retail, Leather, Footwear & Jewellery, Software and General please visit http://articles.fibre2fashion.com

To promote your company, product and services via promotional article, follow this link: http://www.fibre2fashion.com/services/article-writing-service/content-promotion-services.asp