A growth rate of over 18% to 20% is expected in India for the sanitary napkins market, which holds a huge potential and excellent profit margin for the manufacturers, say B. S. Pancholi and Dr. Sandeep R. Naik.
Today, the global market for absorbent hygiene products is over US$ 50 bn (including wipes). The evolution of hygiene products in Europe and the North America has taken 4 to 5 generations. Feminine care was introduced over 100 years ago. Baby diapers were invented 60 years ago. Adult incontinence products appeared 30 years ago.
Feminine hygiene (lady napkins) is hygiene absorbent products engineered to absorb and retain body fluid without causing any leakage. The user should always feel dry and comfortable. It consists of an absorbent pad sandwiched between two sheets of nonwoven fabric.
There are 3 major types of products, viz, (a) Thick sanitary napkins. (b) Ultra thin sanitary napkins. (c) Panty liners being used in the market. The size of each and their content vary from market to market.
Global market status & potential
The menstrual cycle starts for young women between the ages 11 - 17, frequently around 12-1 3 years. On average a woman experiences a period every 28th day, 12 - 13 times in a year. A menstrual period normally lasts 3 - 7 days. The loss of fluid in a period is on average half a cup or 65 - 80 ml. The menstrual pattern is influenced by giving birth and contraceptive methods. Menstruation lasts until menopause at the age 45 - 55. The feminine hygiene products market has evolved over more than 100 years to a more than US$ 17 bn in the following category worldwide as referred in Table 1.
Per capital consumption of feminine hygiene products is illustrated in Table 2.
Some of the established and potential manufacturers of sanitary napkins are listed in Table 3.
Market status & potential in India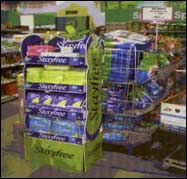 As regards consumption of total hygiene, absorbent products in India, total units consumed in 2007 in India were 2,829 million pieces. Baby diapers comprised 5% whereas adult incontinence 1% and feminine care share is 94%. Past projections and future projections of women population in category of 15- 54 years age is tabulated in Table 4.
If we see the above projections of women in the category of 15 - 54 years in India and the details of sales of absorbent hygiene products in India, then the total sales were US$ 213 million in 2007, out of which adult incontinence share was 9%, baby diapers share was 18% whereas feminine care contributed 73%. Thus, in India, the evolution is expected to go quicker.
Structure and composition
Sanitary napkin products:
Function
Sanitary napkins are designed to absorb and retain menstrual fluid discharges. When used they are applied inside an undergarment with a press-on adhesive fixing strip.
Main functions/key elements of sanitary napkins are absorb and retain menstrual fluid, isolate fluids from the body, no leakage, no unaesthetic appearance, no odour, stay in place, comfortable to wear. Key criteria for success are hygiene, performance, comfort, convenience and aesthetics as tabulated in Table 5.
The structure of typical samples is given below:
Product designs, full size pads:
Topsheet: nonwoven or apertured film.

Absorbent core: pulp (Thick core either fluff core with SAP or Air laid core with SAP.

Backsheet: film.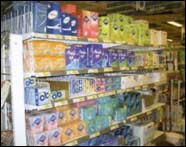 Product designs, Ultra thin pad:
Topsheet - nonwoven or apertured film.

Transfer layer

Absorbent Layer

Absorbent Core

Backsheet film
Product shape can be either flat or curved with/without wings to secure the pad in place and add additional leak protection. It is available in various pattern designs with perfume (deodorant) added to cover or absorb odour. Packaging is done either folded and single wrapped or packed flat and unwrapped.
Raw material
Materials used in absorbent hygiene products:
Nonwoven

Pulp

Super absorbent

Plastic film

Elastic materials

Fastening devices

Packaging
One typical example is as given below in Table 6.
The raw material content can slightly vary for different products and for different market.
A few suppliers of raw materials
Nonwoven fabric: The permeable top layer of 12 to 18 GSM is normally a spunbond fabric made of polypropylene while the impermeable polyethylene/nonwoven film is the bottom layer for preventing the fluid to pass through. Sometimes a nonwoven fabric glued to polyfilm to give feel. Source of nonwoven fabrics in India by Ginni Filaments or Supreme Nonwoven or Pantex, Fiber Web, Union Industries, PVD plastic, Gujarat, etc. Cost of spunbond fabric is approximately Rs.140/kg.

Cellulose Pulp - Wayerhaesder - Switzerland, Rayonier- UK, Tembee Tartas - France, Stora Enso-Italy.

Super Absorbent Polymer BASF-India, Degassa-Italy. 1 gram SAP generally absorbs 30 ml water or up to 20 ml urine in 3 seconds.

Polyethylene Back Sheet Exten-Switzerland, Plastik-Italy, Huhtamaki-Germany.

Silicon Paper MCS-Switzerland, ICA-Italy, Rossella-Italy.

Hot Melt seal and positioners - Savare, National Henket-Italy.

Packaging - It can be from India or abroad.
Manufacturing method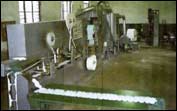 The absorbent pad is the most important component of napkin. Absorbent pad is made of wood pulp mixed with SAP. Absorbent pad is prepared first. The absorbent pad is first created by using shredded wood pulp and vacuum laid to required shape and size, the weight is automatically controlled. By pressing it is formed to required thickness. Before forming the pad the pulp is mixed with super absorbent polymers (SAP) for enhancing fluid holding capacity.
The super absorbent polymer is basically acrylic based polymer that forms gel after absorbing liquid. By this it can hold water up to 30 times its weight. Sodium acrylate, potassium acrylate, alkyl acrylate. This absorbent pad is attached to permeable top sheet made of nonwoven, mainly spunlace fabric. Then the same is attached to non-permeable bottom sheet made of polyethylene. The three layers/ components are glued and sealed to prevent leakage by using heat or ultrasonic vibrations. The content of absorbing pad composite will vary for different types napkins.
The application of accessories like tapes, sealing, etc for comfort of fit to the undergarments is required in some cases. This multi-step manufacturing and folding and packaging is carried out automatically. Precise control on SAP mixing with pulp, pulp weight, size and thickness, quality of seal to ensure leakage prevention, wastage control, etc is an important step in the manufacturing. However, the counting and packaging can be made non-automatic to reduce machine cost. But it may increase recurring cost and wastage.
Project cost
Product: Lady Napkin
Assuming machine cost Rs. 0.90 crore (Make: China)
Semi-automated machine (packaging manually)

Production - 350 pcs/ minutes (at 100% capacity and efficiency).

Efficiency - 80%.

Waste - 3%.

Shift/day - 3 shifts of 8 hours.

Working days - 300 (80% utilization of machine out of 300 working days).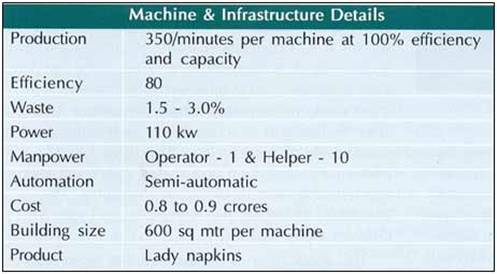 Note
Project profile is calculated based on approximately eight weight/gram of regular sanitary napkin and also based on China make machine.

Land

&

building cost is considered in the project. However, in many cases, if project is implemented in existing infrastructure, the same may not be applicable.

Capital subsidy schemes are not considered while calculating the profit.

Conversion cost is Rs. 0.19 per piece.
Conclusion
At present the production of about 900 mn pieces are manufactured in India and rest are imported. Total women in the age group of 15 - 54 years in India are about 300 mn. Total menstrual periods/year is 13 that last for 4 - 8 days and an average of 3pieces/day is used. Then consumption would be 58, 500 mn pieces/year. Present consumption is 2,659 mn pcs, i.e., 4.5% penetration while in Europe and USA it is well above 73 to 92%. Hence a growth rate well above 18 to 20% is expected in India. The Indian market is quite huge and as per reports available only 35% of India's requirement is manufactured in India, as of now. A huge market, great potential and excellent profit margin is envisaged in manufacturing of sanitary napkins in India.
Acknowledgement
The authors acknowledge with thanks the Director and Management of MANTRA for giving permission to publish the paper.
About the Authors
The authors are with the Man Made Textiles Research Association (MANTRA) Surat, Gujarat.