Interview with Andreas Lukas
Nonwovens segment moving towards lighter-weight materials
With forces in engineering and process development, Andritz Nonwoven provides unrivalled expertise to its customers. Complete lines, rebuilding, upgrading and automation are part of its portfolio, making it one of the leading suppliers of technologies for the nonwovens and textile finishing industry. Elaborating on the increase of economic wealth, Andreas Lukas, senior vice president and division manager, tells Fibre2Fashion about the integration of innovative artificial intelligence (AI) solutions for competency.
TT: How has the nonwovens industry evolved over the past decade?
According to EDANA Statistics, the strength of the economy and demographic trends are the main drivers of demand within the nonwovens market. Consumption of nonwovens and investments by the industry are closely linked and related to the strength of the economy. This is what drives the demand of almost every nonwoven application. Demographic trends, like birth rates and aging population, are also important aspects of this growing market. Thus, the basic foundation for nonwovens depends on global economic and population forecasts.
EDANA mentioned that the capacity for nonwovens production has increased over the past few years by about 7 per cent per annum and will be even higher in the years to come. This is happening in combination with increasing economic wealth and the higher demand for nonwoven products. In the last ten years, spunmelt production has held the lion's share, adding 2.1 million tonnes, compared to carded processes, which have added 1.7 million tonnes.
One continuing and major trend in the nonwoven market is the move towards lighter-weight materials. This reduces the tonnage required worldwide. As a result, there has been a decrease in fabric grammage (weight per surface) worldwide, and the square metre volume is forecast to grow at an even faster pace. Absorbent hygiene top sheet material and barrier leg cuff materials, for example, whose weight in the 1990s was 19-23 gsm are now only 9-14 gsm. The continuous pressure to reduce the cost of the materials used will force us to produce even lighter products in the future.
Regarding growth areas within the nonwovens market, we can definitely see the highest growth rate in China. Other areas, like North America or Europe, are also growing, but not at the same speed. China's annual average growth rate is calculated at 12.4 per cent, and this is propelling China towards becoming the largest nonwovens producing country in the world.
TT: Tell us about your state-of-the-art technology.
As a major player, we are compelled to continuously seek innovative technologies that fulfill customer demands. We have manufacturing facilities and technical centres worldwide that comply with international standards, thus providing a high standard of quality assurance and quality control practices.
Andritz shares technologies and brings together market experience, cultural diversity and well-established customer and supplier relations all along the value chain. Listening to customers and understanding their products are the first steps in all development work. International research teams from all competent and service centres have joined together to create innovative and visionary concepts for sustainable products.
TT: How successful have you been in raising the bar for technical textile technologies?
Calendering processes are still indispensable in the finishing of technical textiles and vital to the quality of the final product. Some typical applications that require a calendered finish are airbag materials, breathable outdoor wear, filters for industrial and medical applications, parachute silk, sailcloth, tarpaulin fabrics, packaging materials, protective clothing, sunscreens and emery cloth.
Besides being operator-friendly, calenders need to provide a high degree of flexibility, reproducibility and process control. Andritz meets these requirements with its teXcal family calender design and sets new standards in the production of sophisticated technical textiles.
The Andritz Texcal calender range is characterised by highest quality standards, top performance, reliability, flexibility and state-of-the-art, deflection-controlled rolls for any textile application. Customers take advantage of this all-embracing, first-class product and service portfolio.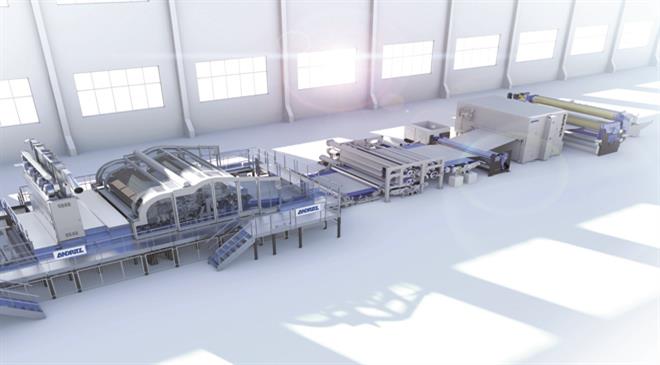 TT: What steps have you taken to reduce carbon footprint?
Sustainability is more than just a trend. It is a part of our daily business to improve the quality of life for future generations. All our new technical developments are designed to save energy, water, fibres and other resources.
For example, we offer very compact lines with high production capacities to reduce carbon footprint. Lighter grammage is also a key driver for sustainability, using smaller amounts of raw materials and thus saving energy in the drying system. Two years ago, we launched Nexecodry, a combination of dewatering system and Nexdry through-air dryer. It saves energy and also makes Andritz spunlace producers more competitive.
For water filtration and bacteria treatment in wipes, Andritz has developed an ozone system using less biocide. In addition, our Wetlace technology is recognised as producing proper flushable products for sustainable wipes, which is very important for the market. Indeed, several organisations are working on a labelling method so that truly flushable products can be distinguished from others. This is certainly a hot topic at the moment.