TT: How does your supply chain network operate? Which regions are part of the chain?
Thanks to our global network, we have the international expertise and experience to provide full and effective support to customers and partners everywhere. The Andritz companies in the nonwoven division complement each other ideally and are present all over the globe. Andritz Nonwoven with its three competence centers is based in Montbonnot and Elbeuf, France, and in Krefeld, Germany.
Andritz Asselin-Thibeau in France, a leading nonwovens system supplier, designs, builds, and supplies turnkey drylaid nonwovens lines, including cards for direct and crosslapping lines, crosslappers, drafters and needlelooms.
Andritz Perfojet in France, one of the pioneers in hydroentanglement, now has more than 240 machines and complete spunlace production lines in operation worldwide.
Andritz Küsters in Germany has extensive know-how and references in wetlaid forming, calendering and finishing processes, with more than 2,500 calenders and 24,000 deflection-controlled rolls sold worldwide.
To serve our global customers promptly, we also have facilities in Wuxi in China, and Spartanburg in South Carolina and Torrington in Connectinut in the United States, service hubs in India as well as representatives across the world. In addition, we are planning to enlarge our local service footprint in Turkey and South America.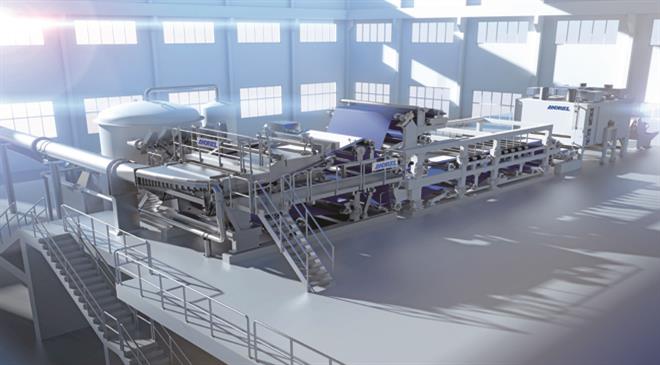 TT: What needs to be done to increase the pace of technology transfer, particularly Industry 4.0?
As Industrial Internet of Things (IIoT) will be a core topic in the future, to maintain and enhance the ability to compete, we have combined innovative IoT solutions, which are field-proven in many reference plants, with immediate effect under the technology brand 'Metris - Industrial IoT Solutions'.
Metris technologies are the latest in IIoT and can be fully tailored to individual customer requirements. Based on our extensive and long-term experience as a supplier of technologies and systems for various branches of industry, we offer a broad portfolio of intelligent, digital solutions that provide significant help to customers in achieving their production and corporate goals like enhancing plant efficiency and profitability and optimizing use of resources.
TT: Which factors drive your performance? What are your expectations for the next two financial years?
Recently, nonwoven producers have been facing other challenges in addition to energy and quality issues. When producers want to save operating costs, they must consider measures to reduce a line's specific energy consumption. However, these measures should not weaken production stability and the quality of the final product. We have now developed several solutions to optimise the energy consumption of existing and new nonwoven production lines. By using a systematic approach to move from the idea stage to commercial-scale production, we ensure that the technologies are proven before even finding their way into a customer's plant.
The Andritz Nexecodry technology is an innovative approach that meets these customer requirements. It offers ease of installation, a sound economic payback and the best quality of nonwoven products.
Nexecodry drying technology is a combination of three specific factors: initial dewatering of the web after the bonding process, achieved by means of vacuum extraction, dryer/exhaust heat circulation and recovery and the new design of the dryer itself (Nexdry). Nexecodry is a further-developed, technical solution in which priority is given to direct energy recovery (patent pending) with virtually no losses. It is coupled with web temperature and moisture control (auto-tune), which automatically optimises the process parameters in real time, and is delivered with an on/off control mode that allows operators to see the benefits of using this system in production.
Moreover, Andritz is introducing its new ProWid system, which is just being launched in the market. ProWid regulates the card web weight before the web enters the crosslapper to lay a fibre mat with lighter edges. It thus anticipates later fabric deformation caused by the bonding process. The coefficient of variation (CV) percentage is generally improved by a factor of 2, in particular when the CV percentage is in excess of 3 per cent without the ProWid system. ProWid can be delivered with an individual Andritz crosslapper to enhance performance in existing carding lines. When new carding lines are considered, the ProDyn weight profiling system remains the premium solution with its competitive cost, high performance and extra value added to nonwoven fabrics. It is already known worldwide for its capabilities as it optimises the weight profile and allows fibre savings. ProDyn is a controlled loop, acting on the quantity of fibres delivered at the card outlet and the speed of the crosslapper, thus generating cost savings for the operator year after year. (RR)