TT: How did you apply carbon fibres in novel ways to 3D print bikes and what was the outcome?
The unibody bike frame construction enabled by Arevo technology is based on industry-first advances in free motion robotics and software that enable 'true 3D' printing. The Arevo frame is made as a single part in contrast to current composite frames, which are made of many parts glued together. With Arevo's intelligent continuous carbon fibre placement, unprecedented structural integrity and stability are achieved.
Further, the Arevo DNA AM process takes the design and final manufacture of a bike frame from 18 months to just a few days at a significant reduction in product development costs.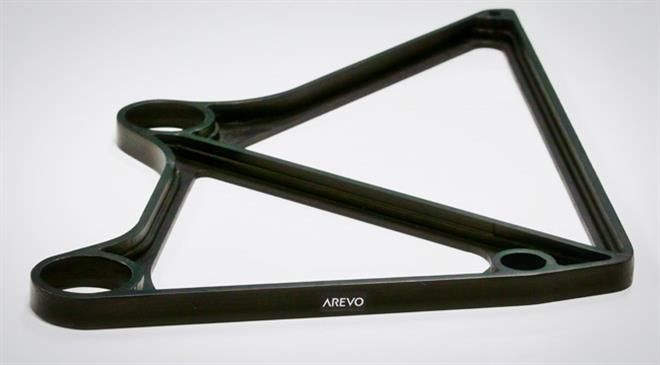 TT: What are some of the other complex geometric shapes that you want to 3D print in future?
As noted above, the sky is the limit practically when it comes to true 3D printing and we look forward to discussing structural requirements with customers and partners in a wide range of industries, which could very well result in new shapes and parts that have been heretofore unimaginable.
TT: What do you use for 3D printing of composites-thermosetting or thermoplastics polymer-and why?
We use thermoplastics. As compared to the thermoset (TS) material dominantly used today, continuous fibre reinforced thermoplastics (CFRTP) is a recyclable material that doesn't have a limited shelf life and doesn't require refrigeration for storage. It doesn't require secondary curing operation in an oven, which is energy intensive. All these mean a more sustainable, efficient and cost-effective production. Furthermore, from an engineering performance point of view, thermoplastics (TP) are tougher and not as brittle. So, in an impact, TP will perform a lot better than TS.
TT: Which are the sectors you are targeting for future projects?
When it comes to 3D printing with composite materials, the greatest impact in the near future will be in the area of creating structural parts for a wide variety of purposes, e.g, bike frames, flying taxi (eVTOL), airplane seat frames and other airplane primary structures, automotive suspension arms and even crash structures.
TT: Which are your current markets around the world? Who are your major clients?
As noted above, most applications are currently in the transportation, aerospace and construction industries.  We have announced deals of various types with industry leaders and a leading innovator in the bike industry.
TT: Who are your biggest competitors? What differentiates you from them?
In AM or 3D Printing, there are a number of solutions primarily driven by the fused deposition modelling (FDM) technology invented by Stratasys, but now a number of other players offer it. There is new technology from companies such as HP, Carbon and FormLabs that compete with FDM technology. 
However, in AM-made ultra-strong and light-weight composite components replacing metal parts, there aren't many solutions. This is what Arevo is pioneering. We create structures from composite materials using fibres and thermoplastic polymers that have enough strength to replace metal parts.
We have already begun production of composite unibody, bicycle frames. This is a good example as the majority of frames shipped today are metal, whether aluminum or titanium; there are even composite bike frames made with 27-28 parts glued together. It is a manual and messy process. Arevo DNA technology allows these products to be manufactured in a fully automated way, as a single part.
TT: How has the series B funding round led by Asahi Glass boosted your company's growth?
The series B funding was critical to help us expand our business opportunities, as seen in the recent announcements with Franco Bicycles and Airbus, and the opening of our new production facility in Milpitas.
TT: You have 55 patents issued till date. Which are the major research and development (R&D) works you are focusing on at the moment?
The phrase 'continuous improvement' is used throughout the world of manufacturing and it certainly applies to Arevo's R&D going forward. When thinking of our DED process, for instance, we will seek to improve upon our already industry-standard setting achievements in such areas as: reliable designs for the service life of these end-use components; the acceleration of a design process that has decreased in some areas from months to days; further cost reductions in areas such as tooling and materials processing and enhancements in software engineering that will create even more 'customisation' options.
TT: What are the long-term sustainability goals set by your company?
The Arevo DNA AM process definitely fits in the category of 'lean and green' as it results in significant decreases in power consumption, transportation, fuel consumption throughout the supply chain network and materials waste (using materials more efficiently and using recyclable materials).
TT: What new is on the anvil?
We will have new product introductions and announce new customers or partners at leading events such as Eurobike in Germany in early September.