Interview with Ayyappa Nagubandi
AI and IoT will be integral to next generation of clothing
Hyderabad-based Broadcast Wearables has come up with the country's first programmable t-shirt. It changes designs and slogans with a tap on the logo, and with close to 800 LEDs it is powered with a battery that can be charged. Broadcast is taking things to a new level altogether by making this possible. Ayyappa Nagubandi, CEO, talks to Fibre2Fashion about the next step in wearable technology.
TT: How is the stable old t-shirt getting a makeover with technology? Tell us about the origins
I have always been a fashion aficionado and I love to express myself with t-shirts; but my choice was limited. I wanted to create a clothing line that had integrated technology wherein I can express myself with what I wear. That is where the journey started, and we are now at a point where we have integrated technology into apparel to create the world's first touch-enabled t-shirt, Sygnal.
TT: What was the initial seed fund that your company received? Who are the major investors?
We are a bootstrapped company. The initial funds were pooled in by our personal savings. We are currently operationally profitable, and any future funding we raise would be used to scale up, automate and expand our manufacturing and research and development.
TT: Currently you are crowdfunding to run the business. How and by when will it be self-sustained?
In 2017, we achieved operational profitability, but as we continue to invest in refining our technology, production methods and various other aspects of the business, we expect a complete self-sustainability within the next two years.
TT: AI and IoT are bringing about disruptive changes. How is the fashion trade taking to this?
As devices get smarter, data is playing a key role in our decision making. AI and IoT are integral parts of the next generation of clothing where fit, colour and fitness will be integrated into clothing directly. Wellness-driven fashion could be the early adopter, paving the way for full integration of AI into fashion.
TT: So far, how successful have you been in putting tech into clothes?
When you buy a Sygnal t-shirt today, you can express what you feel with a tap. You can wash it hundreds of times, fold it, throw it and it works just fine. Yes, that's today. Sygnal is not only a much-needed disruption in the apparel industry, but also adds fun, zing and excitement to clothing. I'm proud to say that we created a new market called 'smart clothing' in the wearables segment.
TT: Tell us about the working of tech wearable.
Our fashion products are integrated with tiny LEDs that connect with the accompanying app to give you complete control over what you wish to say. The t-shirts also come with an API integration that can help corporates get their brand message on all the t-shirts of their employees display the same content simultaneously. Some of the designs use a coin cell battery and some need to be charged.
TT: Is your technology compatible across fabrics? Is this technology patented?
The technology is patented, and compatible across all the clothing line that we sell. Our range currently extends to men's fashion, women's fashion, kids' clothing and accessories. We intend to expand the same technology to various other product lines in 2018.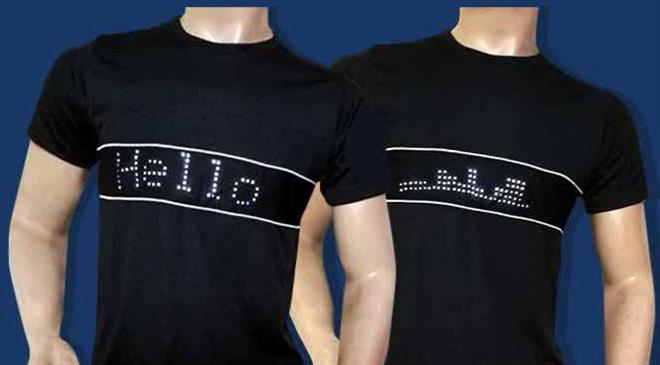 TT: Is the smart t-shirt waterproof and washable?
We test the technology and endurance of our apparel before releasing them. As a part of the process, we wash a garment hundreds of times, fold it, throw it and it works just fine. It can be washed in a machine or by hand. Our engineering team has perfected the art of integrating circuits in apparel.
TT: What are the advantages and disadvantages of the tech wearables?
Tech wearables is just like any other wear with technology built on top of it. There are huge advantages of the added tech. For example, consider this: a cyclist riding on a foggy night would be able to make a turn by switching on the indicators inside of the clothing by just lifting hand to a certain degree. Now that has some practical advantages built into it.