TT: What is the USP of your tech garments?
We are the first company to create touch-enabled clothing. We have authored multiple patents and have plans to branch out into other verticals of the fashion industry. Our unique designs and product tech integration position us in a different league altogether.
TT: How different is your LED-lit t-shirt from the rest available in the market?
Our products are machine-washable, built for rough use and have a programmable API. Sygnal is the only brand in the market with world-first technology and such power-packed features.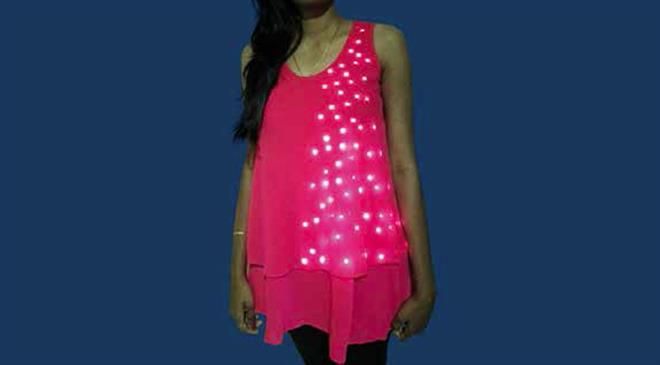 TT: You are also working on creating a wearable phone. Please elaborate.
We are in the prototype stage on designing a phone that can be worn and do all the things that smartphones do today. This is a result of application of our existing technology to a different field. All we can share for now is that we are re-imagining the smartphone as we know today.
TT: Which product category sells the most and in which price range?
We have consistently clocked 300 per cent growth y-o-y since we started out. Women's apparel and men's fashion go neck and neck in terms of sales figures. We are now planning to scale up in the children's fashion market and have set ourselves a target of tripling our revenues by next fiscal. We process bulk orders to major corporates and look to increase our footprint in this segment too.
TT: Why are you betting big on tech wearables? How do you plan to improve margins?
As our volumes grow, so do our margins. We are bringing in some smart automation to improve our processes in key production areas. We expect to improve our efficiency by 20-30 per cent in the next fiscal by implementing smart automation techniques driven by our internal machine learning algorithms.
TT: Which are your major markets? Which markets do you plan to penetrate in the future?
Global markets have contributed to a higher share of our sales especially North America and the Middle East. We are now planning to ramp up our scale in the domestic market and have set ourselves a target of tripling our revenues by next fiscal.
TT: What is the average cost of manufacturing a Broadcast t-shirt? Do you have your own set-up or get it outsourced?
We have an in-house team manufacturing the Broadcast t-shirts and all the fashion lines that we offer. The cost of production varies with the complexity of design and we try to keep it as low as possible for our end-users.
TT: What percentage of your sales is through brick & mortar and what through the e-marketplace?
We market our products online and work with distributors across the spectrum. Although I cannot comment on the numbers, our online portal is gathering steam and we expect to go big in this area in the next 1-2 years.
TT: What is your R&D team like? How much do you spend on R&D on a yearly basis?
We are very excited about the products our R&D team is developing and can't wait to see them in the market. We are developing a unique women's accessories line that is totally integrated with our patented technology; we are calling it 'Smart Accessories'. We are the pioneers in the smart clothing industry and it is made possible with our hard working R&D team. We want to make Sygnal smart clothing acceptable to everyone as a daily wear with a smarter mix of technology, design and innovation. After all, it is 'Made in India' for the world.
TT: How was your company's performance in the fiscal 2017-18, and also tell us about your future plans.
Our average growth y-o-y is 300 per cent, of which majority of the action took place this year. We nearly quadrupled our revenues and expect more. We are receiving enormous interest from corporates and Western markets alike. This growth is due to a combination of improvement in our production line capabilities and refinement of our technology. We aim to capture a higher share of the emerging wearable fashion technology market through production automations and applications in new segments of wearables.
TT: Can you update us on your expansion plans?
We are currently shipping our product to a few countries in the West. We have seen a huge surge of requests for newer designs, concepts and more personalised apparel. To cater to the demand, we have diversified from four to 40 designs today which range from womenswear, concept-designed apparel and fitness shirts to accessories, bikers' jackets and more. We plan to take our product range to 150+ by next year to cater to this growing global demand.
TT: If we were to ask you to do some crystal-gazing, what are the changes that tech apparel would have seen by 2030?
Smart clothing could become a must-have in everyone's wardrobes. I believe it won't stop with that and all the accessories would become smart and would be able to sync to apparel and match themselves with complementary colours. It is also important to understand that as computing power grows, all devices including smart clothing and accessories would become virtual computing machines that would download designs that you like and show it up.(RR)