TT: What were the top three innovations to come out of Europe in the last five years?
During the last INDEX 20 Innovation Awards, several innovations in product won, but the top three are:
-
Sontara Dual by Jacob Holm is made of 100 per cent plant-based raw material and is certified to OK biodegradable soil and Oeko-Tex standards, while also offering high absorbency, low linting, excellent strength for longer use, high resistance to tearing and superior cleaning performance. The material combines a rough side for scrubbing with a soft side for delicate care to achieve extraordinary cleaning results. The textured material easily traps and removes oily and sticky liquids. The unique 3D aperture structure is gentle enough to use on skin.
-
UltraBond Fibres, sustainable contribution to 100 per cent recyclable nonwovens by Beaulieu International Group. The new UltraBond is an innovative bonding staple fibre that eliminates the need for latex or other chemical binders to bind nonwovens. It opens up a path to create 100 per cent polypropylene (PP) needle-punched fabrics which meet the same performance requirements as traditional constructions, while reducing the end-of-life environmental impact.
-
Fiber+ by Ahlstrom-Munksjö is an innovative filter media using exclusively biodegradable and compostable raw materials for the best infusion. The Green Capsule Top Lid is a compostable lidding filter. Its structure allows perfect coffee extraction thanks to a high-pressure resistance, and the oxygen barrier properties help to preserve coffee freshness in the capsule. The Compostable K-cup filter is a unique compostable, formable filter, compatible with the K-cup system and capable of holding high quantities of coffee for the best result in cup.
Many other innovations both in terms of technologies and finished products are arriving in the market.
TT: What innovations and technologies is CETI involved in currently?
Thanks to its many industrial partnerships such as Hills Inc, a world leader in multi-component processes in melt spinning and spunmelt; ANDRITZ Nonwovens & Textile, a major world player in nonwoven technologies; EREMA Engineering Recycling Maschinen und Anlagen, a world leader in the recycling of thermoplastic resins; CETI is working on processes and raw materials with the aim of making products lighter, bringing them more technicality, and working on their recycling and incorporation into the future generation of nonwovens, to serve the nonwoven industry.
CETI is working on new technical partnerships with different textile leaders to fulfil the actual and future industry requirements.
TT: What are the biggest trends you see in textile fibres, materials, and manufacturing in the next five years?
The major trend in the textile industry is to produce better, more sustainably by limiting the environmental impact, and by thinking about the end of life of products and their reuse. This trend has been the DNA of CETI, which strives to innovate through the transformation of bio-sourced materials, the recycling or regeneration of textiles, but also by combining the textiles manufacturing processes and their transformation into finished products, thanks to textile and process digitalisation.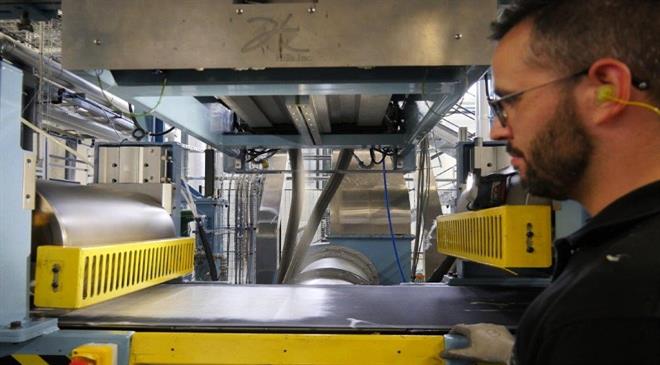 TT: What are the major factors responsible for important innovations in fashion, textiles and nonwovens?
The textile industry is today in a complete revolution linked to the circular economy. European legislation on disposable products directs nonwoven research towards the use of bio-sourced materials, a transformation of petrochemical materials controlled by processes that optimise energy consumption, and optimisation of products by minimising the environmental impact and maintaining or by optimising their properties.
The European directives aim to promote and guide research on the recycling of textiles, in particular, through its Rehubs project initiated in December 2020.
TT: What are the long-term goals set at CETI? Any major announcements this year?
As the European platform for experimentation and industrialisation of textile materials, CETI is a visionary tool allowing all advances in circularity. This unique collaborative place of creativity, engineering and prototyping has been innovating for 10 years for leading brands in nonwoven, professional apparel and PPE, sports, fashion and luxury, for the digital and sustainable transformation of the extended textile sector.
Thanks to its capacity for innovation and its collaborative work with industrialists, CETI is closely studying the creation of a new generation of fibres from textile waste, agricultural co-products (regenerated cellulose), animal biomass (wool, cashmere, milk casein) and plant biomass.
In partnership with the CNIEL (Centre national interprofessionnel de l'économie laitière), CETI is working to develop milk casein fibres by the wet spinning process, commonly known as milk fibres, on a 100 per cent French circuit. Milk fibres are composed of a single molecule that can be easily extracted and processed to dissolve. Its properties are said to be similar to wool (yarn strength) or silk: hypoallergenic, resistant, antibacterial, antistatic. In addition, the fibres developed may be recyclable or compostable.
By investing in a wet spinning line in 2022, CETI will be able to develop an innovative process (green solvents, optimised dissolution and regeneration) for spinning milk casein. Once the filaments are produced, they will be textured and cut into fibres to create a spun fibre and then a yarn that can be used for knitting or weaving.
At the same time, CETI is starting research work with the Institut Polytechnique Unilasalle de Beauvais to create a new generation of cellulose-based fibres from the by-products of oilseed flax cultivation. This project will make it possible to exploit unused biomass and agricultural by-products.