Interview with Pierre Wiertz
Strength of economy and demographic trends key drivers
EDANA, the international association serving the nonwovens and related industries has 247 member companies in 35 countries. Every year the association organises a number of international conferences and is the sponsor of INDEXTM, the world's leading nonwovens exhibition. Pierre Wiertz, general manager, EDANA discusses at length the market for nonwovens globally.
TT: How big is the market for nonwovens globally? At what rate is it growing?
The worldwide production of nonwoven roll goods reached 8.9 million tonnes in 2014, equivalent to $35.6 billion. The tonnage volume was equal to about 262 billion sq m in 2014. EDANA and INDA forecast worldwide nonwovens production will continue to grow, and expect that in the period from 2014 through 2020 the industry will expand at an annual average rate of 5.7 per cent and reach a volume of at least 12.4 million tonnes.
Table 1: Outlook for Worldwide Nonwovens Production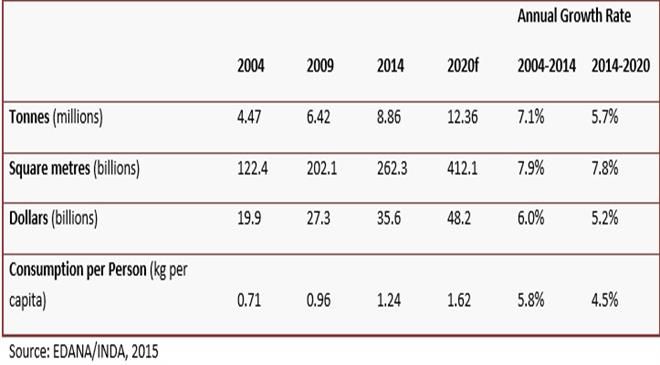 TT: Which are the largest markets, both in terms of production and consumption?
Asia is now the dominant nonwoven producing region, accounting for 42 per cent of the world's production in 2014, up from 32 per cent in 2004. China accounts for a significant proportion (66 per cent) of the Asia volume and is now the most important nonwovens producer worldwide with production volume in 2014 estimated at 2.4 million tonnes and equivalent to more than a quarter (27 per cent) of global nonwovens production in 2014. The production of nonwovens in North America is expected to improve, resulting in tonnage production increasing 5.3 per cent annually by 2020. As a result, nonwovens production in North America (2.1 million tonnes in 2014) is expected to catch up with that of Greater Europe (2.2 in 2014), which will experience a lower nonwoven growth of around 4.8 per cent until 2020. Both are expected to reach about 2.9 million tonnes in 2020. (Source: EDANA-INDA Worldwide Outlook for the Nonwovens Industry 2014-2020)
TT: Which are the new markets that are opening up for the production and consumption of nonwovens?
South American nonwovens output, after experiencing 4.7 per cent annual growth over the last decade, will grow at a faster pace-6.6 per cent annually-during the forecast period. In Middle Eastern & North African (MENA) countries, by 2020, the nonwovens output will keep growing by 7.1 per cent annually. India, Indonesia and Iran, starting from lower levels, will also experience moderate to high growth rates.
TT: Which major factors are responsible for the growth?
The strength of the economy and demographic trends are the significant drivers of demand within the nonwovens industry. Consumer discretionary spending and business investment-both correlated to the strength of the economy-drive demand in nearly every nonwoven end use category, while certain demographic trends-such as births and aging-drive demand in the remaining end use categories. The basic building blocks of nonwovens' demand are thus based upon the global economic and population forecasts. Growing purchasing power allows people to buy nonwoven-based products to fulfil their-until then- unmet needs in personal care, healthcare, etc. With their population's disposable income on the rise, many Asian countries lead the way in these favourable trends for nonwovens, thereby demonstrating our industry's products' tremendous improvement of people's lives.  This also applies to the Latin American and African markets.