TT: By what percentage is the market for performance fabric market growing? How big is the global market?
The global performance fabric market is projected to grow with a CAGR of 4.7 per cent from 2020 to 2027 with the global market valued at 411.01 million USD in 2020, based on a recently published report.
TT: What has been Hologenix's growth story in the past few years?
We're happy to say that we've had four consecutive years of improved growth and have made to the Inc. 5000 list the past two consecutive years (and three times overall) as well as the Financial Times ranking of the Americas' fastest-growing companies in 2020.
TT: How is Hologenix positioned in the advanced materials market in the world today?
We are a leader in advanced materials providing the benefits of infrared energy through responsive textiles using bioceramics embedded into fibres and yarns.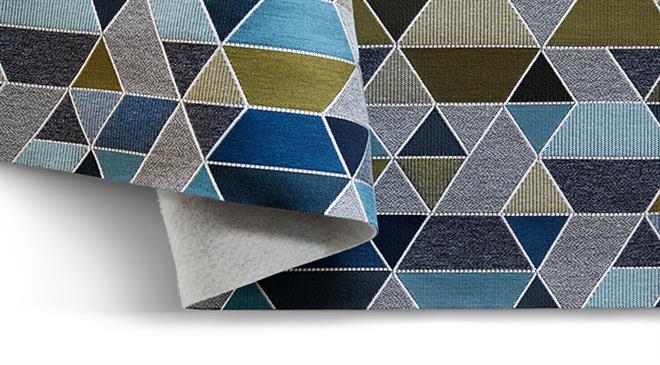 TT: Where are the natural minerals for Celliant technology sourced from? How does the supply chain work?
We're very proud to say that our natural minerals are non-conflict and ethically sourced. They are ground and blended in the United States. We work with partner brands to streamline our supply chain as much as possible in order to minimise our impact on the planet.
TT: What are the testing protocols enforced in Celliant's production?
Hologenix's Science Advisory Board works with primary investigators to rigorously test and validate the science of infrared and its benefits. This includes experts in the fields of photobiology, nanotechnology, sleep medicine, human physiology, diabetes and wound care. To date, Hologenix has eight peer-reviewed published studies.
Celliant is also subject to four testing protocols. Ash testing is used to verify the presence of Celliant minerals to the level prescribed by our usage guidelines. Emissivity testing measures Celliant's ability to generate and emit infrared energy. Transcutaneous Oximetry Pressure testing (TcPO2) measures the amount of oxygen available in the tissue of human test subjects to ensure that test subjects wearing or sitting on Celliant-powered products achieve a minimum of 7 per cent increase in TcPO2. To date, we have conducted over 1,000 TcPO2 tests. Finally, Hyperspectral Imaging (HSI) measures Tissue Oxygen Saturation (StO2). Celliant is rigorously HSI tested, having to pass a minimum threshold of a 6 per cent increase in StO2 to show efficacy.
TT: Celliant in general has been used along with many fibres in the past. Which are the new fibre applications you are looking forward to?
We're really excited about the recent launch of Celliant Viscose, the world's first in-fibre infrared sustainable viscose solution. Developed in partnership with Kelheim Fibres, Celliant Viscose debuted at ISPO 2021 where it was a finalist in the Fibres and Insulations category. A truly versatile fibre, it blends beautifully with cotton, micromodal, lyocell, wool varieties (including cashmere), and other fibres. Celliant Viscose is ideal for performance wear, luxury loungewear, casual wear and bedding.
TT: How many washes would a Celliant product score on longevity and durability factors?
Celliant is durable. Once it is infused into or printed on fabric it doesn't wash or wear out - Celliant lasts the useful life of the product it powers. The number of washings does not affect Celliant's durability beyond the product's durability.
TT: What is the technology behind Celliant Viscose?
As stated, Celliant Viscose is the world's first in-fibre infrared sustainable viscose solution. The combination of Kelheim's distinctive technology and the Celliant minerals creates this unique fibre that provides full functionality without the need for any additional processing step - a new standard in the field of sustainable infrared viscose fibres. This single processing also makes Celliant Viscose more cost-effective and time-efficient than coatings. In addition, Kelheim's flexible technology allows targeted interventions in the viscose fibre process. By modifying the fibre's dimensions or cross sections or by incorporating additives into the fibre matrix, Kelheim can precisely define the fibre's properties according to the specific needs of the end product. Celliant Viscose is available in the following fibre types: · Textile type 1.5D · Nonwoven type 1.5D · Nonwoven type 6.0D · Wool type (for tops)
TT: What are the other materials Celliant Viscose can be blended with to create yarns and fabrics?
There are limitless opportunities, and it can be combined with cotton, micromodal, lyocell, wool varieties, including cashmere and merino wool.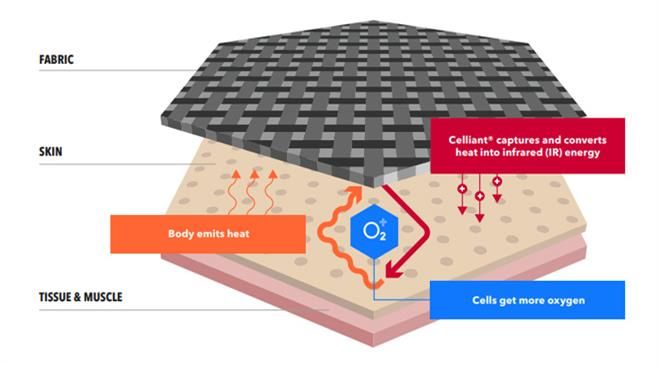 TT: Any data to show the kind of acceptance the Celliant fibres have received in the world market?
Our brand partners include global, world class brands such as Amazon's Rivet, Levi's, Under Armour, Costco and Designtex. Globally, products powered by Celliant have sold over $500 million at retail. Regionally, in Japan, we work with the country's largest brand, Aeon.
TT: How are Hologenix's products Celliant Polyester, Celliant rPET, Celliant Nylon and Celliant Viscose different or similar to their natural counterparts?
Well, they are essentially the same from a fibre and yarn performance standpoint, meaning properties such as tensile strength, elasticity and durability. The difference is the natural minerals that we add into the respective carriers. These minerals do enhance the fibre's ability to thermoregulate the body, dry more quickly and inhibit odour. All three of these enhancements are due to the body heat being captured and converted into infrared energy, then reflected back through the fibres and into the body. 
TT: How much sustainability and circularity does the Celliant fibres promise of?
Our polyester is available with a recycled PET, while Celliant Viscose is nature-based and certified by FSC or PEFC, which guarantees the origin in sustainably managed plantations. In addition, Kelheim Fibres, Celliant's partner in creating Celliant Viscose, was awarded a green shirt in Canopy's 2020 Hot Button Ranking, indicating a leadership role in raw material sourcing.
TT: Is Hologenix coming up with any new technology/product invention? Any new partnerships in the pipeline?
Yes, absolutely. We are constantly innovating and in the next few years will look to expand into other industries such as beauty and even agriculture. Though we can't say too much right now, we will be announcing several new partnerships later in the year that we're really excited about. (PC)