TT: What is the main function of INDA? How has it evolved through the years? How many member companies do you have? How does INDA help its members?
INDA was formed in 1968 to advance the growth and interests of the young nonwoven fabrics industry at the time. Initially formed as the International Nonwoven Disposables Association (INDA, for short) in the early 1970s, we supported the establishment of the European Disposables and Nonwovens Association (EDANA) in Europe and welcomed durable nonwovens into the fold, but the name INDA had taken hold; so, we continue to use it without attaching meaning to the letters. Our role now is to help our industry and our members be successful. INDA helps its 366 members succeed by providing the information they need to better plan and execute their business strategies. We provide technical training at various levels, market statistics and data to enhance decision-making, management of issues impacting market sectors, events to connect people of similar interests, and involvement in relevant government regulatory and legislative issues.
TT: Which are the major industries where nonwovens find their application?
We measure volumes by tonnes and by square metres; so, rankings can vary depending on the measure. The hygiene sector, consisting of baby care, femcare and incontinence care, consumes the most square metres and a lot of tonnes. The wipes sector and the filtration sector have both been fast growing markets in the last several years, with filtration gaining strength. In the last five years, the transportation sector, consisting primarily of cars and trucks, has shown a lot of growth as nonwovens displace other materials to achieve thermal management, acoustical management performance with lighter weight and less volume, and because this market has been robust since the major downturn of 2008-10. 
INDA delivers its services locally with a global presence. We have members of INDA that are headquartered in Europe and other regions, but they have local operations and therefore they want to take advantage of INDA's local delivery of services. When I travel around the world, INDA is a very respected leader in the nonwovens and engineered materials industry. We're respected for some of the programmes that we've brought to the industry. The educational platforms, the standards development, and the events that we manage. And we're more than willing to share our knowledge and best practices with others trying to do the same in their areas. 
We're delighted to be celebrating our 50th anniversary this year. For an association to stay relevant for this length of time, you've got to be continuously adaptive to the environment, which in our case, is also continually changing. Nonwovens are very versatile platforms for materials that solve problems. And new problems are always coming up that require material science solutions. So, we're in a very vibrant industry that adjusts to the times and the association must adjust to the times as well.
I love change. The idea of versatility, nimbleness, reading the signals, understanding what the needs are, checking the needs with members, making sure we're on the right path, these are essential elements to keeping the association relevant to the needs of our industry. Today, INDA's ever growing 366 member companies come from the entire nonwovens' value chain: suppliers, manufacturers, converters, machinery and equipment manufacturers, consultants, academics, and others.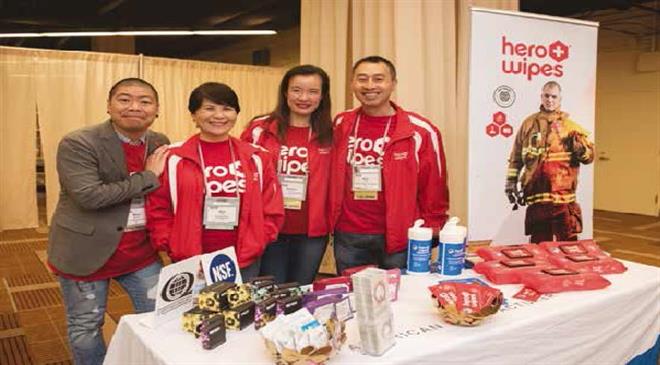 TT: What are the major reports/materials INDA provides to its members? What do the reports cover?
One of the most valuable reports we develop is the member-only report on the North American supply/demand balance. This is a full survey of industry producers, be the market suppliers or producers for internal consumption, getting their capacity and production for an accurate read of the supply/demand balance so important in considering capacity investments. Additionally, we produce Outlook reports providing our best forecast for where the industry will be in five years, by sector. We do North America and, with EDANA, a separate Worldwide Outlook for the Nonwovens Industry, both breaking it down into sectors and, the latter, by geography. These reports provide reliable and actionable data. We also produce the Global Nonwoven Wipes Industry Outlook and, with EDANA, the Nonwovens Standard Procedures and Test Methods. INDA also publishes proceedings of conferences' presentations. Attendees can access proceedings with no additional charge as a registered attendee. 
Beyond those publicly available Outlook reports and the member-only supply report, we produce for members only the quarterly INDA Market Pulse providing members with an exclusive overview of the current state and direction of the North American nonwovens industry, including economic viewpoints. The publication provides a consensus outlook of economic, energy, and end-use market forecasts. The INDA Price Trends Summary is another INDA member benefit that provides a monthly summary of price analysis for roll goods, staple fibres and polymers.
TT: What are the conferences that INDA organises on a monthly/quarterly/yearly basis?
The largest exhibition INDA organises is IDEA-the world's pre-eminent event for nonwovens and engineered fabrics and it is held on a triennial basis. IDEA connects the industry's innovative game-changers across the entire dynamic nonwovens and engineered fabrics supply chain. IDEA was recently held at the newly renovated Miami Beach Convention Center, in Miami Beach, Florida, March 25-28, 2019. The event welcomed 6,500+ participants and 509 exhibiting companies from 75 countries to make business connections, listen to world-class speakers, develop essential skills by attending optional training workshops, and recognise IDEA Achievement Awards. 
INDA also organises the annual World of Wipes (WOW) International Conference (to be held June 24-27, 2019 in Atlanta, Georgia); Hygienix - the premier event for absorbent hygiene and personal care markets, (scheduled for November 11-14, 2019 in Houston, Texas), RISE - the conference for research, innovation and science for engineered fabrics (September 24-25, 2019 in Raleigh, North Carolina), and, co-organised with EDANA, Outlook Plus Latin America in São Paulo, Brazil, this May 7-9 with a focus for two days on Hygiene and a third day (the Plus day) on filtration and medical. 
The 13th edition of WOW is focused on new ideas in wipes for a sustainable world. The conference is expected to attract 400+ industry peers from 22 countries and discover how to apply new ideas in the critical topics that are driving new wipes products and markets.
Over 500 absorbent hygiene and personal care professionals from over 24 countries and throughout the supply chain participated in INDA's fourth edition of Hygienix in 2018. Last year's conference revealed opportunities in a retail shift, design advancements, incontinence management, skin health, upcycling and haptics. The three-day conference delivered programme content, an educational short course, networking, awards, and an opening welcome reception.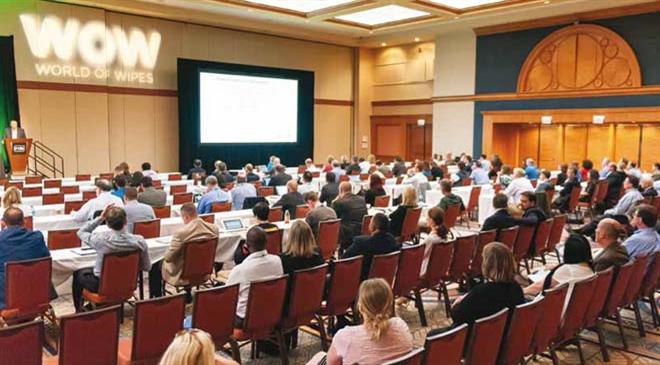 TT: How is INDA's Academic Outreach Initiative going on?
INDA's Academic Outreach Initiative is successful and growing. Once again, the Academic Outreach Initiative is hitting some of the nation's top college campuses this fall to promote in demand STEM (science, technology, engineering, and math) jobs in the growing nonwovens/ engineered materials industry as part of its member outreach efforts. 
The Academic Outreach Initiative was developed to help our members recruit rising college graduates into our industry by promoting the industry, not a job. Nonwovens and engineered fabrics should be a very attractive field for a young person. If you're intellectually curious, if you have any ability to work with science, if you can work with people and you try to look down the road and understand the needs that humans will have going forward, then this is a good platform for a recent grad to get into. It is technology based. It's global in nature. And the products we make solve real world problems. 
In 2017-18, INDA engaged with more than 2,000 college students at 18 career fairs at a dozen universities. Member companies were provided 40-plus quality resumes for each career fair attended.
TT: Is INDA collaborating with some new partners in future to broaden its operations?
INDA is always open to new partnerships to advance the industry. We recently acquired two publications to extend our reach and voice in two important areas. We have International Filtration News to expand our reach into this important sector, and International Fiber Journal to elevate the role material science will play in developing more sustainable approaches to the single use disposables so prevalent in our industry. We also divested the Journal of Engineered Fibers & Fabrics as it no longer served our needs. We have to stay fresh and adjust to the changing times, and these moves enable that. With our new media businesses, we intend to provide some thought leadership, expose new developments, relate them to the challenges going forward, and to expand INDA's presence and service in important areas.