TT: Please share the founding story of Kansan and the philosophy behind its success.
Kansan was established as a small workshop of 200 sq m with four employees developing various dry converting machines for the local market. The first wet wipe converting machine was built in 1998. At the beginning of the 2000s, we added flow pack and lid application machines to our portfolio. In 2019, Kansan established Andropack for flexible, efficient and robotic end of line solutions for various industries including wet wipes. 
In 2015, the first steps were taken to establish Kansan Materials, based on the increasing demand for sustainability and environmentally friendly raw materials in the fields of hygiene, baby care, and personal hygiene. We produced machines that use special wet laying and web forming technologies to manufacture wetlaid nonwovens for hygiene, personal care, medical, filtration, construction, and insulation sectors. Wetlaid is a type of nonwoven material with flushable and biodegradable properties, consisting of pulp, cellulose or similar organic fibres.
We have been constantly monitoring the dynamics, requirements, and trends of the global trade to redesign our machines and services to reach more flexible and tailor-made solutions for 30 years. Kansan has delivered more than 1,000 successful projects to 55 countries.
TT: Which technologies in the nonwoven sector have grown in the last two years far more than others?
We mostly operate in the hygiene and personal care field of nonwovens. In this field, due to the pandemic there was a significant demand increase in meltblown for facemasks, spunlace and spunbond for wipes, especially antibacterial and disinfectant wipes. A lot of new players and a great deal of new capacity entered the market for these specific product groups. This also helped in the fight against COVID-19.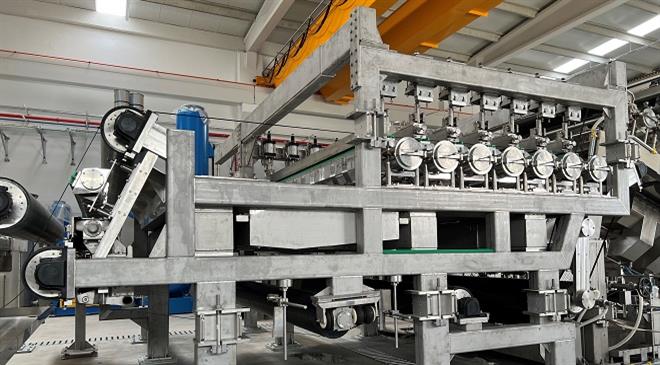 TT: What are the latest innovations that Kansan Materials is working on?
We recently finished the manufacturing of our very first industrial scale wetlaid production line. This line consists of a headbox, a hydroentangling unit/water jet, a dewatering unit, a thru-air dryer, and an inline slitter rewinder—all of which are designed, developed, and built by Kansan Materials. 
KM Aquaformer, the headbox unit, is the most crucial component of a wetlaid production line. It performs a wet laying process and can dose short and long fibres in the same suspension to produce wetlaid nonwoven substrate with flushable properties yet strong enough to be easily processed on modern converting machines.
KM HydroJet, the hydroentangling unit, uses high-pressure waters jets to help entangle fibres to increase the mechanical strength of the nonwoven substrate. This delicate process not only increases the material strength but also the wet wipe converting machines' uptimes indirectly due to the sufficient tear resistance at such high-speed processes. 
KM TA-Dryer is a through-air dryer that stands out with efficient energy use, and heat recovery properties. Even if the product is dewatered with superior suction after KM HydroJet, it is still fairly damp and needs to be dried out for further processing. The unique heat exchanger technology of KM Dryer recovers a significant amount of heated air and energy to be used in climate control and heating the main water supply of the facility. 
KM Slitter Winder reflects the 30 years of experience and know-how of Kansan engineers in material handling and paper and nonwoven converting. It winds the product on a shaft and slits the width at desired dimension online. When the preset diameter is reached then the shaft is removed from the process and the new shaft is placed on the winder without having to stop the line.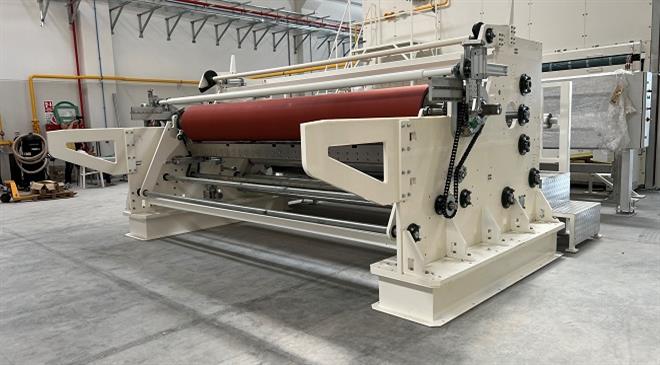 TT: Which new geographies are showing the potential for your product?
We currently operate in 55 countries. Since there is an increasing trend in the use of sustainable raw materials especially in Europe, we aim to start with our current market and reach every point in the world.
TT: What are your long-term goals and expansion plans?
Kansan Materials aims to become an important wetlaid and nonwoven machinery supplier in the market for flushable and biodegradable substrates. We plan to use our pilot line to make trials with different type of natural fibres to reach more sustainable, eco-friendly, cost-efficient products and we want to use our engineering capabilities to produce more efficient and less energy consuming nonwoven production lines.
TT: Sustainability and environmentally friendly production have been one of the most important agendas in the recent years. What steps do you take as a company on these issues?
Our customers aim to produce renewable and environmentally friendly raw materials with our wetlaid line. While designing our production line, we paid particular attention to equip our machines with technologies that optimise energy and water consumption so that the production process is as environmentally friendly till the final product.
We aim to maximise heat and fibre recovery with our innovations in filtration, and to maximise energy savings with our heat recovery systems.