Interview with Luis Quijano
Bacterial cellulose can be durable
Focusing on bold patterns and colour palettes, Luis Quijano, a student at the Liberty University in Lynchburg, Virginia, is successful in merging fashion with some unlikely counterparts - microbiology and mechanical engineering - to bring to life an idea that had long been only conceptualised: growing your own clothes. This senior fashion student has been working rigorously to create what he thinks could be the most innovative trend in fashion. Luis Quijano talks to Fibre2Fashion about using bacterial cellulose as a non-woven.
TT: Tell us about your journey so far.
My journey started with speaking about bacterial cellulose. Then I decided to explore growing the material and had the opportunity to go to Australia last summer for research. Recently, I finished my senior honor thesis, applied for the Fulbright scholarship to study in Australia, and am currently writing conference papers on bacterial cellulose. The last few years have been years of continual growth and change. I would never have expected to be in the position that I am in the field of bacterial cellulose, and am looking further to continuing research on this textile.
TT: How did you begin with growing your own clothes?
My journey with bacterial cellulose started while watching a Tedtalk show of Suzanne Lee describing how to grow one's clothes. The process seemed abstract to me and raised my interest. Thus, I researched bacterial cellulose and delivered an informative speech for my Liberty University forensics speech team during my sophomore undergraduate year.
TT: What is the kind of wear and tear the leather-like fabric you have developed can sustain?
Bacterial cellulose can actually be very durable. However, I do not believe anyone has tested out its wear and tear for clothing involved in everyday usage. I believe that for a marketplace, bacterial cellulose would still need to be refined to meet the needs.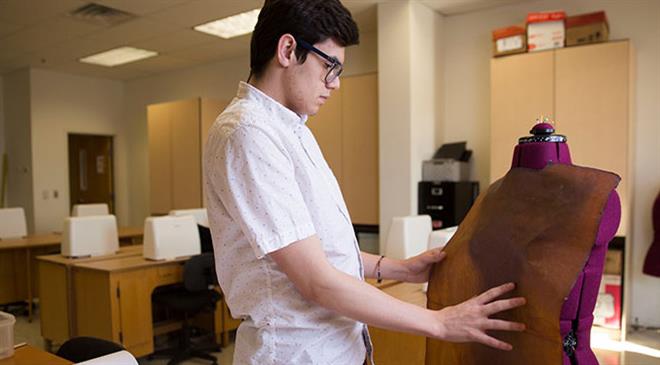 TT: Which materials have you used in the production of your home-grown clothes? Are those eco-friendly?
I have used white sugar, green tea, kombucha tea and distilled or boiled water as well as coconut oil, food colour and vinegar. In comparison to the status quo of how most textiles are produced, bacterial cellulose can be considered to be more eco-friendly.
TT: Do you intend to modify your manufacturing process in future? Please elaborate.
I intend to modify the manufacturing process by researching and utilising more efficient growing processes so that bacterial cellulose may be grown faster. In addition, I intend to explore methods of waterproofing bacterial cellulose.
TT: Tell us about the fabric variation in your home-grown clothing.
Each batch that one grows may consist of variations in thickness, colour and length depending on the size of the container and the ingredients used.
TT: What about colouring, detailing or ornamentation of the fabric? Will it be able to take all this?
Bacterial cellulose is very receptive to colours. In addition, detailing and ornamentation appears to be characteristics that bacterial cellulose can support. Sacha Laurin, founder and owner of Kombucha Couture, has utilised these various processes in creating elaborate garments from bacterial cellulose.
TT: How is the R&D taking place?
Some members within the International Textile and Apparel Association coming from Cornell University, Iowa State University and Hong Kong Polytechnic University have published a few articles on or created products using bacterial cellulose and fashion R&D.
In addition, the State Library of Queensland and the Queensland University of Technology (QUT) in Australia have a partnership in which they are actively looking at R&D.
Finally, at Liberty University I have been supported by the Center for Research and Scholarship as well as various academic departments, such as the Department of Family and Consumer Sciences and the Department of Biology and Chemistry, which have guided me in the research and my senior honour thesis with the title 'Embracing bacterial cellulose as a catalyst for sustainable fashion'.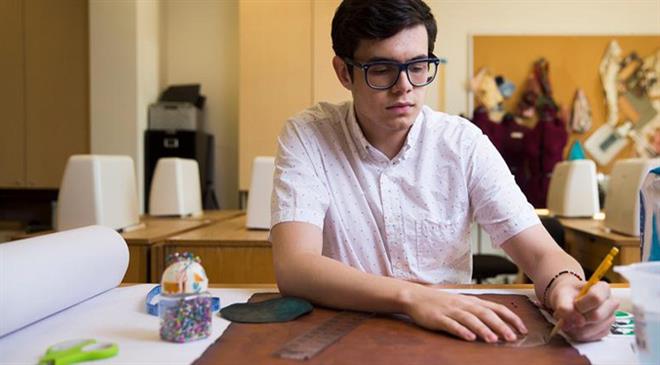 TT: How economically viable and practical could this fabric be?
No official cost analyses have been done to figure out how much cost goes into the fabric per yard or meter. However, the potential of bacterial cellulose makes it economically viable and practical. It is most optimally grown at room temperature, meaning anyone can grow it in his home.
TT: Have you included sustainable aspects in your designs?
In my upcoming senior design collection that I will be presenting in April, I am planning to include in my designs sustainable aspects, such as bacterial cellulose, reversible wear, zero waste design and digital printing.