TT: What is the market size of reusable healthcare textiles globally? What is MIP's market share in that?
Right now our approach to this market is totally different. We are not going by standard norms of doing a survey of what is the market size, what is the size of pie we can eat up, who is our competitor; we are actually not going that way. It is a very different approach we have taken for this market. Our company is the top ranked in Canada, the United States and Europe. For the first time, we are launching in Asia. MIP has taken India as a pilot project for Asia. So we are trying to introduce the products in the Indian market in a small way like having a floor in a hospital like Fortis and Breach Candy having 20 beds using MIP products. On a running basis, getting into a lifecycle cost, ease of handling, getting feedback from housekeepers and all those data are more important to us at the moment. So it is not a sales-driven but an experience-driven approach for the market at the moment.
TT: What are the advantages of reusable medical textiles over their disposable counterparts?
First of all, it is definitely the cost in a big way, because when you are talking about disposable medical textiles, then definitely the cost is higher as you use and throw. But when you use reusable products, then the cost comes down.
The second issue is when you are talking about reusable materials, then we also look at the handling cost, the ease of handling and how to lower human touch during the entire journey of medical textiles from housekeeping to cleaning, washing and coming to the bed again. We have introduced textiles that do not require ironing, which reduces cost and electricity. Third, composition of the material is 35 per cent polyester and 65 per cent cotton. But we have engineered the loom in such a way that the polyester comes at the bottom of the sheet and the cotton comes on top. So whatever portion comes under human touch is cotton, that is something unique. 
There are a lot of things we have added in our products. For example, in a hospital, it is very difficult to manage the inventory. The products that we are giving here comes with an RFID chip. So the housekeeper may see on a screen that how many bedsheets are in the stock, how many are in use, how many are in laundry or if any staff member is carrying a pillow cover in his bag and approaching the gate, then he can immediately call the security. This leads to prevention of theft.
We have recorded a huge number of lost items through housekeepers every month. On an average, we lose 10 bedsheets, five pillow covers. MIP products come with a chip wherein you can track each and every item.
There are other similar benefits added to the product and it is not just a normal bedsheet.
TT: What are the reusable medical textile varieties you manufacture and distribute? What is the science behind their creation? What raw materials go into their production?
It is basically anything on bed/nurse/doctor/patient in terms of textiles; we manufacture everyting. The technology is re-engineered after talking to thousands of housekeepers to bring more ease of handling.
To give you an example, if you look at any hospital or hotel about how they put the bedsheet -at all the four corners they tie a knot so that the bedsheet does not move. Our bedsheet is called an envelope sheet-you just put it as an envelope on the bed (it has got an elastic right at the bottom), it takes very less time and there is no need to untie the knots when you send the bedsheets for washing. It cuts down time.
The raw material composition is 65 per cent cotton and 35 per cent polyester-that is the standard. But looking at the requirements of different countries, we customise the raw materials used in our products. Like in Paris, the products are made of 100 per cent cotton as they want it that way. They dont want 35 per cent polyester.
There are certain brands of hospitals who want a composition of 65-35 or 50-50 and some want 100 per cent polyester. And we also customise each of the products with the logo of the hospital brand, so that is another added benefit. For example, if we are making our products for Fortis, then everyting comes with a Fortis logo; it's embroidered.
TT: Which are your major markets? Which new markets hold lot of promise for you?
Right now we are focusing on India. I am the main contact person for entire India. My next immediate target is definitely Bangladesh, Maldives and Sri Lanka. India is going to be the hub of Asia in future from medical textiles perspective.
TT: What are the new developments you are coming up with in your niche?
The new developments that we have added are basically called as OTRT system, basically a curtain system. When you visit a hospital, you will notice that the patient is always surrunded by curtains on two sides. Changing the curtain is a very tough task. Somebody comes with a ladder, goes on top, pulls the curtain down and replaces it with new curtain. In some hospitals, we found that they change the curtains in six months, some every month. Whereas in European countries, they want to change it after every patient, because anything can hold germ. Therefore, we have come up with a system named OTRT, where a nurse herself can change the curtain in 30 seconds by standing on the floor. It is a very new technology that we have introduced. We call it soundless curtain, i.e when we move the curtain, there is no sound. Thus whenever a patient is discharged, eveything is changed-the bedsheet, pillow, pillow cover, curtains etc. This way, infections do not persist in the room.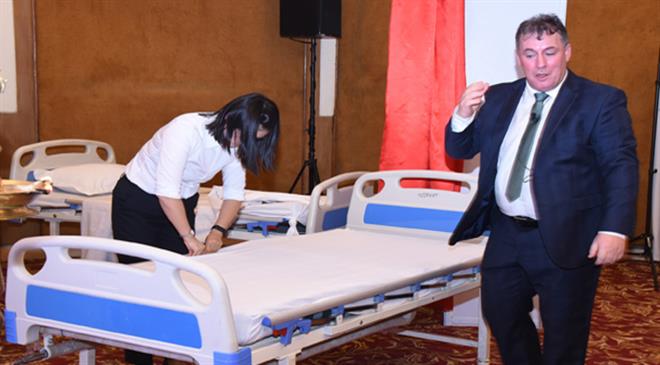 TT: What are your expectations from the Indian market?
We want to reach every part of India in smaller quantities, something like 10-20 beds in a hospital, where we want them to experience the product. This year that is our plan; let them experience, let them understand the difference, let them discuss within the community. Then next year, we will see how we plan our business. We may probably come up with a manufacturing unit in India.