TT: What are your marketing strategies for the Indian market? What are your expansion plans?
We have just done an event in Mumbai where actor Ameesha Patel was our chief guest. After the event, we received some enquiries from Breach Candy Hospital (Mumbai), Artimis Hospital (Gurgaon) and Fortis. We are working on those. At the moment, our targets are very low-key, that is to hit a specific hospital with a direct approach-taking an appointment, going there with a display kit, give them a presentation where you have a mixed gathering of 20 people of clinical doctors (who approve the product), executive housekeepers (who handle the product) and head of procurement (who buys the product).
We have already started with Delhi National Capital Region and we are going to take part in the upcoming Medical Fair India, to be held from March 5 to 7 in Mumbai.
After the fair, we are going to take one of the hospitals in Mumbai as a training centre where we are going to train housekeepers about how to use our product, how do you manage time to change the whole bedsheet and pillow covers, and how to use our carrying trolley without putting the bedsheet on the floor. We are going to train nurses and the housekeeping staff.
We are already in discussion with a few big hospitals in Lucknow, which is our third target city and then Kolkata. We are looking for hospitals and caregiving centres who look for quality and understand how to use top-line products from the US or the European market. 
We are targeting not only big hospitals, but also middle and small category hospitals because when we do the price comparison, we see that they are not very far away from the price that they are paying. Thats something which is a good news for us.
We also had a couple of meetings with government and army hospitals and they are showing great interest in our products. We are in both the sectors at the moment, government as well as private.
TT: What are the hurdles you see in realising your goals in India?
It is basically the methodology being used by each hospital, because we found certain places, which we do not want to name, are using disposable items thrice, such as a sanitary pad bedsheet, which is primarily for patients who are bleeding, in which the bedsheet is not damaged. The one we provide is reusable, you can wash it and reuse. But the same thing is used in many hospitals as a disposable sheet. But if they find that the sheet is not damaged, does not have any blood spots etc, they are giving it to other patients as well and not discarding it.
The second point is being in the comfort zone where hospitals buy from old suppliers they have a long connection with. Very few people are there who want to try out something new. We need people who want to take charge and want to try something new. There needs to be a shift in the mindset.
Another problem is the hierarchy. For example, if the vendor is introduced by the owner, then procurement or housekeeping does not want to touch it. But we are able to find people who are taking ownership and can convince the owner to approve application of the product for 10 beds. We are only looking for those 10 beds kind of things.
Since this company is over 30 years old and quite established across the globe except Asia, it is not looking for a money-driven approach at the moment. We have just launched in India on December 13. We have no targets, nothing to hurry and have a very relaxed approach as of now. It is rather like: let us go and get some appreciation, interested people.
Another issue is, we are sending a team of our foot soldiers off the ground to Birmingham for 15 days to get higher training on the products. Then we would like to come back and start a Train-the-Trainers programme under which we will start teaching hospitals, nurses, caregivers and even go to the laundry to teach how to handle our products.
TT: How big is your team in India now?
We have a team of 10 now. Two of them are fresh graduates having no experience of medical field, seven of them have some kind of medical background but not core background. We are not looking for  experienced medical personnel at the moment, because we are looking for fresh brains who can be tuned as per MIP culture.
TT: Are there any competitors in the Indian market yet?
Not really. What is going on is going on. We have brought in some fresh air. Once we are able to hit the chord in the market, we are sure that the demand will generate automatically, because the first shout will come from the user department.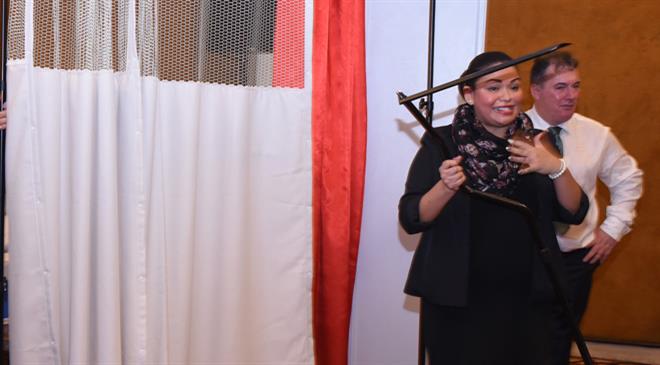 TT: Why is India lagging behind in implemention of such hi-tech medical textile products?
There are a few trends of the Indian market. If you look at the top housekeepers, they generally come from a hospitality background like working for some hotels, etc. So the back-end management of these items-pillows, bedsheets, towels and pillow covers-is somehow following a similar way of functioning in the hospitality or hotel sector. Hospital and hospitality both have become the same. If you talk about the front-desk and the back-end management, the only difference is that in one place you go for relaxation and entertainment and in the other you go for treatment. So the doctos are the only differentiating factors between the hospital and hospitality sectors. Even some hospitals look like a 5-star hotel. So the culture is same, and hence the maintenance and housekeeping culture is also the same. It is there we are trying to hit, that medical textile cannot be equal to hospitality textile. Neither it has a similar way of functioning. (PC)