TT: What is the size and thickness of the printable circuit? What material does the circuit use? Is it a standard size or changes as per requirement? What kinds of materials do the circuits work best on?
Our process is compatible with several base metals. We are currently using copper as the metal that is plated onto the fibres to add conductivity. This is due to its excellent conductivity, wide availability and relatively low cost. The process can be carried out on a wide range of knitted, woven and nonwoven, natural, synthetic, glass and mineral-based yarns and textiles. The process results in a metal coating being plated onto the fibres of the textile. Because this coating is only a few microns thick, it adds negligible weight and has no impact on the handle, drape, breathability or stretchability of the textile. The process uses a free-form printing step to apply a catalytic seed layer that defines that shape and area that is subsequently plated. This means that almost any conductive pattern can be created. Conductive tracks can be widened in areas where there is space on the garment, but fine features can be used around electronic components and connectors. Track and gap widths of 1mm or less are typically achievable, depending on the fabric.
TT: How do you see the market of wearables evolve in the next couple of years?
The wearables market is growing extremely rapidly year-on-year. In parallel, there is a transition under way from rigid boxed devices, such as smart watches and wrist bands, to smart garments based on e-textiles. The transition is being made possible by the availability of flexible electronic components and sensors that have been designed for wearability. However, the huge variety of textiles-along with their stretchable and conformal properties-means that they are a particularly challenging substrate in terms of interconnects. The absence of a robust, manufacturable and high-performance interconnect solution for e-textiles has been a major road-block for innovation in this area. This is where Pireta technology comes in. Removing this road-block will enable new product innovation and the explosive growth that is forecast for smart clothing type wearables.
TT: What new is in the works in your lab?
We are expecting to license our technology to a number of high-volume manufacturing partners in the next five years. I also anticipate the Pireta process being used widely in the production of e-textiles and smart garments. Currently, we are working with prospective customers across a range of sectors and application areas-including fitness, wellness and elite sports. Some of the applications are very interesting and exciting.
TT: What would be the cost to the environment once these circuit embedded wears are no longer wearable? How biodegradable are they?
The process is additive-meaning minimal waste -and uses readily-available, non-environmentally hazardous and low-cost materials. Pireta technology results in very small amounts of metal being added to the textile. Metals are not, by their nature, inherently biodegradable. However, as is the case with other electronic devices, it will be possible to recover and re-cycle these metals from smart garments produced using the Pireta process.
TT: What is your current production capacity?
We will be licensing the Pireta process to end-to-end garment manufacturers, as well as to contract manufacturing partners wanting to offer a printed conductive textile process as a service. This may be achieved via a "factory in a box" approach. 
This is possible because: 
The process is highly scalable as direct soldering is used in the process-the method used almost-universally by the electronics industry for mounting and connecting components to circuits. 
It can be operated roll-to-roll at a mill or applied later in the garment manufacturing process, either to cut fabric or to finished garments. Dyes and protective treatments can also be applied to the textiles that have been functionalised using the Pireta process. 
The process uses commercially available equipment and readily-available, nonenvironmentally hazardous and low-cost materials.  
It is suitable for integration within the textiles and garment manufacturing industry, as well as being compatible with existing electronic manufacturing.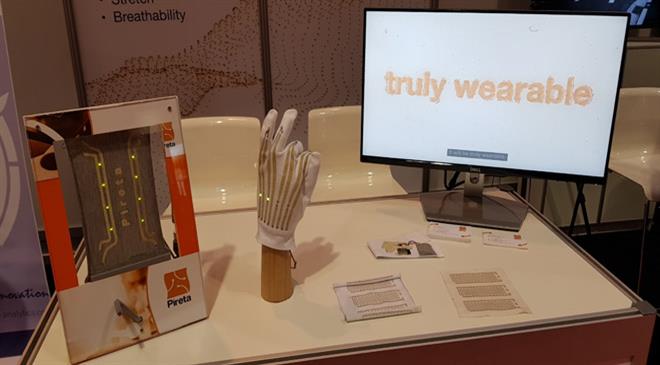 TT: What new functionalities and innovations do you plan to bring to wearable technology?
Pireta technology offers a unique combination of functionality and performance, specifically: 
"
Comfort: Pireta technology has no impact on the handle, drape, stretchability or breathability of the fabric. 
"
Durability: Our technology is mechanically robust. The conductive patterns do not crack or fail when the textile is washed or stretched. The technology has exceptional wash-ability- functionality is retained over 100+ washing cycles and conductivity is retained with stretching.
Flexibility: Pireta technology can be added discretely to a textile with minimal impact, applying the conductive tracks where needed, and without restricting the choice of material for your garments.   
Solderability: Because the conductive tracks are metallic, electronic components and connectors can be soldered directly to tracks produced with the Pireta process. 
Compatibility: The process can be applied to a very wide range of yarns and textiles. Dyes and protective treatments can also be applied to the textiles that have been functionalised using the Pireta process.  
Manufacturability: Our process is suitable for integration within the textiles and garment manufacturing industry, as well as being compatible with existing electronic manufacturing. 
Scalable: The process is highly scalable and can be operated roll-to-roll at a mill or applied later in the garment manufacturing process, either to cut fabric or to finished garments. 
Economic: The process uses readily-available, non-environmentally hazardous and low-cost materials and commercially available equipment and. It is also additive. Pireta technology fills a clear gap in the market by enabling printing circuits on textiles without affecting the drape, handle, stretch ability and breathability of the material. (HO)