Interview with Davide Vigano
Wearable technology segment will be an important player in medical smart textile market
Headquartered in Redmond, WA, Sensoria Health is the leading developer of the Internet of Me (IoMe) smart garments and artificial intelligence software solutions that help improve people and patient's lives. Sensoria's proprietary sensor infused smart garments, Sensoria Core microelectronics and cloud system enable footwear and clothing products to convert data into actionable information for patients and clinicians remotely and in near real-time. Speaking to TechnicalTextile.net, Senoria Health Co-founder & CEO Davide Vigano talks about smart garments and their application in healthcare.
TT: How did you come up with the idea of designing products of Sensoria Health?
We had the idea of experimenting with textile conductive material and trying to embed sensors into footwear to obtain actionable data and biometric feedback. We initially focused on distance runners. In 2013, wearables were not the same as they are today. Bulky and less than powerful, and not very accurate and they are still (most of them) limited to the wrist as of today. The foot was especially underserved by technology and innovation. We ran a successful crowdfunding campaign in 2014 and brought our Sensoria smart sock v1.0 to the market. We then transitioned to building a cloud plus mobile plus textile sensor infused technology platform which is still referred to today as the Sensoria SDK. To be included in our SDK platform, we developed a non-mission specific, and yet very powerful and yet small wireless microelectronic device which includes a 9-axis designed from the ground up to enable any brand footwear and apparel to bring additional 'smart' products to market. We have always envisioned healthcare as the long-term strategy.
TT: When was the company founded and what were the initial hiccups?
Sensoria Inc was founded in 2013 and Sensoria Health Inc in 2017. The major hurdle was that we were unable to find reliable textile sensors on the market that met our specifications. Either they were not flexible enough, or not washable, etc. So, we had to create our own proprietary textile pressure sensors which took lots of time and resources. The other challenge is that when creating a multidisciplinary engineering team, it takes time to get to a point where everyone 'speaks' the same language for effective communication. Now we see a material engineer find a solution for a software or mechanical engineer, or a UX designer contributing to solve a clinical issue, which is fantastic and very rewarding.
TT: How many products have you designed?
You can see the range of products on our website as well as our Sensoria Developer Kit offerings on our Sensoria web store. But the major ones are:
Smart boot for diabetic foot complications
Smart knee brace for TKA (total knee arthroplasty)
Smart socks for gait analysis and neurological diseases
Sensoria mat for spinal cord injury and other wheel chair users
NeurOptrek Powered by Sensoria to address midline shift syndrome and reduce risk of falls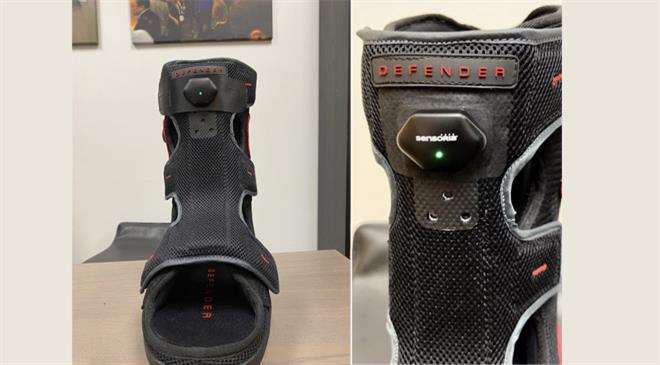 TT: What kind of technology does Sensoria Health use? What kind of health analyses and data can your products provide?
Sensoria Cloud plus Mobile algos and Sensoria Core are our technology platforms. We have created a Human Augmentation Platform, comprised of proprietary textile sensors, microelectronics and AI algos/cloud/mobile software that enables footwear, accessories and apparel to collect and convert novel datasets, via machine learning predictive analytics, into actionable information for consumers, patients and clinicians remotely and in near real-time.
Mobile Application: Data gathered from the sensors are processed by signal processing algos, ML/AI algos, to provide behavioural feedback, positive reinforcement and alerts in case of non-adherence.
Cloud Remote Patient Monitoring: Data can be turned into actionable information and analysed, and presented to clinicians, care givers or trusted advisors. We have unlimited storage, computing power and energy in the cloud!
TT: What kind of wear and tear can occur to Sensoria Health products?
It is dependent on the solution; however, our Sensoria smart socks are machine washable and have been tested for over 35 wash cycles and last as long as any other pair of everyday socks.
TT: What new innovations and technologies are you working towards?
We are focused on addressing the most prevalent conditions, the most expensive to treat and the ones which lack a suitable solution in the market.
TT: What trends do you foresee in the smart textiles and its application in the healthcare sector?
The wearable technology segment will be an important – if not the most important – player in the medical smart textile market and account for large revenue share due to the increasing presence for remote patient monitoring. There are several factors as to why this is so: rising issues of incompatibility with different types of electronic systems and smart textiles as well as low awareness of the benefits of smart textiles in underdeveloped countries. The therapy and wellness segment will also drive revenue growth due to increasing incidents of acute and chronic illnesses, growing adoption of these smart textiles and the rising preference for remote patient monitoring (RPM).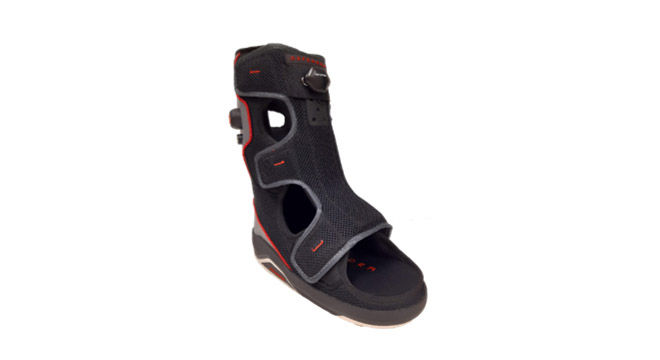 TT: What new products do you plan to introduce and what new applications do you plan to explore?
We currently have a working prototype Sensoria Baby which can measure the baby's position in the crib, breathing rate and excessive external pressure on the baby's body (such as a parent's body). We are also working on a solution for venous leg ulcers and in partnership with The University of Alberta, smart respiration bands for addressing Long COVID.
(Interviewer: Shilpi Panjabi)