Techtextil India Symposium attracts over 135 delegates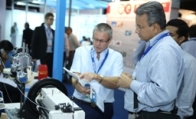 The most recent edition of the two-day Techtextil India Symposium held in India, on October 16-17, 2014 in Mumbai, saw around 135 gathering of delegates from India and abroad.

Organisers of Techtextil Symposium, Messe Frankfurt say it has emerged as the primary conference for highlighting the prowess of technical textile and nonwovens sector across the globe with several editions of the conference held over the past years in Frankfurt, India, Middle East and Russia.

The first session began with Hendrik H. van Delden, Managing Partner from Gherzi van Delden GmbH, Germany, highlighting how the evolution in manufacturing and industrial sector demands lighter technologies steering towards trends such as weight saving, high fiber and high performance fabrics.

Speaking about how the Indian technical textile sector, which is expected to grow at 20% CAGR over the next decade, achieve this growth target, Vijaya K, Lead Consultant at ICRA Management Consulting said, "Challenges related to the availability of specialty fibre and raw materials, policy and power related issues and high transaction costs are the major growth deterrents for the sector.

"A re-look at the textile matrix and a multi-pronged strategy targeting domestic market consumption pattern, export promotion, institutional demands and value added products will ensure we achieve this growth objective," he added.

The symposium also saw frontrunners in technical textile sphere like Reliance Industries Ltd, Teijin India Pvt. Ltd., Saertex India and Leister Technologies India Pvt Ltd. underlining innovations in specialty polyester fibers, advanced composites with non-crimp fabrics and fire resistant composite system and technologies that optimise weld parameters.

The final session on day one ended with a progressive perspective on 'Nonwovens industry and innovations' wherein speakers stressed that nonwoven is a highly research driven industry and India needs to apply a multidisciplinary approach towards R&D in technical textiles.

Day two of the conference dedicated to technical textiles development prospects offered much in terms of technology innovations and developments with speakers highlighting innovations such a resin coated glass fabrics - a new tool for architects to design stadium roofing, pioneering concept of 2 ½ D braiding that combines the advantages of both 2D & 3D technologies without the disadvantages and developments in Warp Knitting for Technical Textiles.

Bringing sector specialists from consultation, manufacturing and research for the highly anticipated panel discussion on the 'Technical Textile Industry – Future and Growth Outlook', the conference mirrored concerns of the industry on how India can become a powerful force in the global technical textiles sector and match pace with dominant players like China and Japan.