Interview with Kevin Young & Tom Lucas
Use of nonwovens to increase by 50% over next decade
Web Industries is a precision formatter of nonwoven materials used in baby diapers, adult incontinence products and feminine care products. Kevin Young, Vice President of Corporate Development and Tom Lucas, Project Manager, Web Industries, speaks to Paulami Chatterjee about the trends in the technical textiles/nonwovens sector and the key factors affecting market dynamics.
TT: Give us a background about your company. What is the size and scope? What are the milestones achieved by you in the last 50 years?
Because we are a privately held employee-owned company we do not share our gross sales in the marketplace, but Web has had a record of continuous growth during its 50-year history. Indeed, achieving 50 years is a significant accomplishment, and we are poised to grow for many more. 
A major turning point in our company's history was when our founder Bob Fulton decided to sell the company to the employees. He felt that his success was largely due to his employees and he wanted to give back to them. This proved to be a beneficial business decision, as well. Our employee-owners have a vested interest in Web's success, and they take personal pride in providing great products and services to our customers. Another highlight took place in the early 2000s when we realigned our business along vertical market segments. This focus has allowed us to become intimate with the trends that affect our customers' portfolios and guides us on how to best service them. 
TT: Where do you source your raw materials from?
As a contract manufacturer, we are material agnostic. Web can work with customers' preferences and convert virtually any type of flexible material, including nonwoven, film, paper, paperboard, tissue, foam and foil. Alternatively, based on a specification, we will source the material from any number of vendors.
TT: Which are your major export markets and clients?
Today our major export markets are in hygiene, especially in Asia, India and South America.
TT: On what parameters does Web Industries score over its rivals in the converter business? What are your strengths as a company?
Relationships!  Decades of experience, growth and innovation, the scale of our converting services and speed to market.
TT: What are the benefits of large-format spooling and repeat-in-variance printing?
Large-format spooling at Web means two things to customers. 1) Large outputs that run for a longer time on production lines. This reduces scrap, downtime and handling, all of which leads to greater throughput for our customer. 2) Large scale! Web can convert large quantities quickly and with less scrap and edge trim. Both cut converting costs. 
Variance-in-repeat printing creates multiple repeat designs in the same print run. The printing capability enables Web's customers to bring a variety of designs to market, rather than a single uniform design. For example, images of flowers can vary by location instead of appearing in the same place every time. This allows a customer with multiple SKUs to minimise costs related to additional plates and costs associated with changeovers.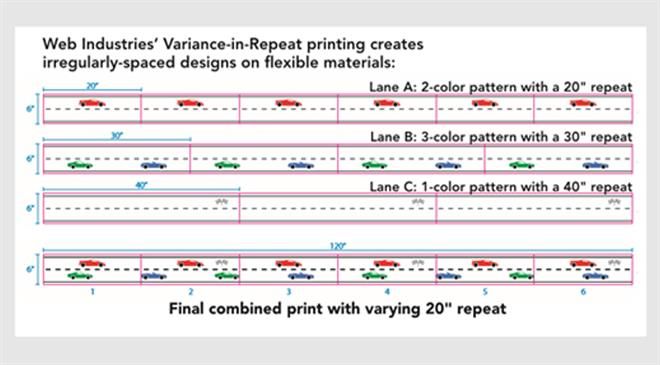 TT: Sustainability the world over has become a key issue. Which are the areas in your supply chain where you are adopting sustainability into?
There are many ripe opportunities for cutting back on transportation and energy. Plus, we are eliminating scrap associated with starting a roll, edge trim, reducing or reusing packaging materials, and recycling where we can. 
Web's large and extra-large format winding reduces packaging because the customer handles one large spool as opposed to many pad rolls.
TT: Which market segments does Web Industries cater to? Which of them generates the most revenue and why?
Web Industries has a diversified portfolio. We supply our precision formatting and contract manufacturing services to four market sectors: Personal & Home Care, Medical, Aerospace and Industrial. Our largest business segment is Aerospace. Diversification is a good business strategy because it reduces risk or dependency on any one market. Market segments can be cyclical, and diversification can level out spikes in demand.
Aerospace has been our fastest growing segment due to the transition on twin aisle aircraft to composite wing structures. This has been a plus for our precision slitting capabilities. In addition, our 2012 acquisition of CadCut equipped us with ply cutting and kitting services that have resulted in good company growth.
With P&HC (personal and home care), price compression is driving demand for innovation and cost optimisation. 
Major brands focus on innovation, but the ability of private labels to copy these innovations and get products into market quickly cuts the time that brands have to enjoy the benefits of their innovations. So, the brands and contract manufacturers are looking into suppliers like Web Industries to provide innovations that cut costs. Web Industries, for example, is bringing to market and advocating the use of traverse wound spools in large and extra-large formats that lower costs by increasing throughput and reducing waste.