With consumers growing more concerned about their environmental footprint and the effects of climate change becoming impossible to ignore, industries are adapting to keep up with the trend towards environmentally friendly and 'green' products. Nonwovens are not exempt from this and global manufacturers are advancing their products to keep up with the growing demand for sustainability.
Nonwovens, quite simply, are innovative, high tech, engineered fabrics made from fibres. These fibres or filaments are entangled together in a web-like structure to form different bonds through mechanical, thermal or chemical modification. Due to the high level of manipulation they can endure, they can be manufactured into a variety of things with different characteristics providing different functions. They are all around us performing crucial roles and we encounter hundreds of them every day. They include such items as bed linen, floor cloths, diapers, medical products, home furnishings, wipes, teabags, and so many more.1
In the last decade, we have seen substantial growth in the demand for sustainable nonwovens. Singleuse products and their impacts on the planet have been brought into the spotlight with biodegradability at the forefront of conversations. Environmental impacts from nonwovens are everywhere, with plastic pollution, ecological damage and sewer blockages a constant reminder that the way we live our lives is incompatible with a future.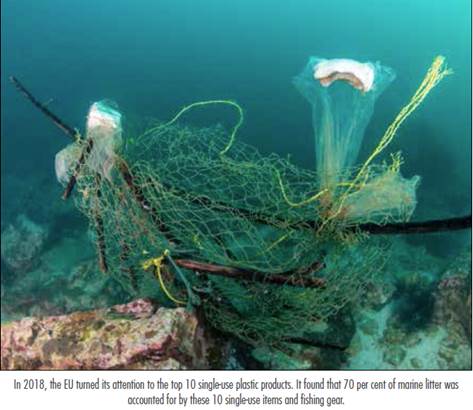 Governments are pushing for change, with sustainability one of the core themes in many government agendas. In 2018, the EU turned its attention2 to the top 10 single-use plastic products. It found that 70 per cent of marine litter was accounted for by these 10 single-use items and fishing gear. Actions were recommended3 to reduce waste including finding sustainable alternatives, educating people on their responsibility, promoting the reduction of use, pushing for recycling, and including clear labelling to encourage proper disposal or redesign completely.
Aligned with the motivation to reduce waste and seek out sustainable alternatives, consumers are on the hunt for biodegradable options which can mitigate the environmental impact of single-use plastic. This is evident from a recent report stating that the growing demand for paper straws is expected to grow at a CAGR of 20 per cent through 20254. Governments are pushing for a more circular world and the nonwovens industry is adapting to suit the growing demands of both the planet and the people.
Furthermore, nonwoven companies are working towards prioritising the use of sustainable raw materials which can be derived in more environmentally friendly ways for their products. This includes the use of materials including wood, cotton and other natural cellulosic fibres. Previously, as stated by EDANA5, only 30 per cent of nonwovens are produced from renewable materials, whilst 70 per cent of them are petroleum-based. However, this is changing with Suominen being an example of this. As an innovative and sustainable nonwovens company, it is trying to create a balance between the environment and the quality of a product. Its portfolio is derived from products that are made from renewable, plastic-free and/or recycled materials. The company takes its entire supply chain into consideration, which even expands into its transportation distances.6
There is also a growing demand for transparency with consumers wanting to know more about the environmental and social impacts of products they are buying. Therefore, the nonwoven ecosystem is adjusting to these demands, disclosing information regarding the packaging and the disposability of a product. This is evident through EDANA and INDA 'flush ability' guidelines for disposable nonwoven products7 released in 2018. Their guidelines only allow nonwovens to be labelled as 'flushable' if they have passed several different qualified tests. Implementation of guidelines like this is crucial so that companies can see the standard that allows them to use certain labels on their product and with this, promote supply-chain transparency. These guidelines also help instil confidence in consumers that they are using sustainable products. Finally, another way the nonwoven industry is adapting is by moving away from disposable to reusable.
The majority of nonwovens have previously been engineered to be single-use products, however, those in the automotive industry are highly durable, lasting a long time. Therefore, companies are taking elements of this durability and improving the lifespan of nonwovens. This can be seen in Europe, where many of the commercial wipes are now multi-use and can be rinsed and washed many times.
The world is changing with a growing commitment to sustainability. The planet needs us to change and the consumers are ready to. Manufacturers must find alternative ways to produce nonwovens so that our surroundings are not impacted, and with that comes a global shift to move away from our overindulgence in single-use, throwaway items and move towards a future of circularity and responsibility.
REFERENCES:
1. https://www.wptnonwovens.com/blog/nonwoven-fabrics-in-everyday-items/
2. https://ec.europa.eu/commission/presscorner/detail/en/IP_18_3927
3.https://www.textileworld.com/textile-world/features/2019/02/nonwovens-current-trends-opportunities/
4.https://www.globenewswire.com/news-release/2021/03/17/2194660/0/en/Global-Paper-Straw-Market-Size-
Expected-20-CAGR-Growth-by-2025-Facts-Factors.html
5. https://www.nonwoven.se/en/materials/sustainable-nonwoven/
6. https://www.suominen.fi/en/
7.https://www.edana.org/docs/default-source/product-stewardship/guidelines-for-assessing-the-flushability-ofdisposable-
nonwoven-products-ed-4-finalb76f3ccdd5286df88968ff0000bfc5c0.pdf?sfvrsn=34b4409b_2
This article was first published in the October 21 edition of the print magazine.