There are various types of clothing developed in India to protect soldiers in extreme weather conditions in high altitudes. A compilation.
Soldiers are accustomed to rigorous physical activity like running and carrying equipment and weapons. Excessive activity in cold climate followed by inactivity results in hypothermia, whereas high work rates while wearing layers of protective clothing in hot climate leads to hyperthermia. Sometimes these conditions can even lead to illness or death. The troops deployed in high altitude regions like the Siachen glacier and Leh, Doklam, Kargil and Tawang regions are challenged by many medical conditions like hypothermia and other cold- related injuries, such as frostbite, frost nip, superficial ulcers of the skin and trench foot (caused by constant exposure to wet, non-freezing conditions). The biggest factor behind death of soldiers in Siachen is not by enemy bullets but due to the extreme weather conditions and avalanches.
To overcome physiological hazards caused by exposure to varying degrees of cold at high altitudes, clothing should be designed and developed by using special fabrics that can protect them.
Concept of high altitude clothing
High altitude clothing or Extreme Cold Climate clothing (ECC) is a type of multilayer clothing used in very cold climate zones like Siachen. There, the clothing needs to meet both functional as well as comfort parameters and comprises jackets, waistcoats, trousers, glacier caps, rappelling gloves and glacier gloves. The typical characteristics of high altitude clothing are hydrophilic or waterproof, moisture resistance, breathable, abrasion resistance and resistance to wear and tear.
The high altitude clothing used by Indian soldiers till now have generally been heavy, bulky and clumsy. Most were imported from China and used bird feathers as filler. Besides, these either did not provide adequate warmth or caused excessive heat stress and restricted operational movement. Additionally, there has been an acute shortage of clothing for Indian troops deployed in high altitudes. The Defence Bioengineering and Electromedical Laboratory (DEBEL) under the Defence Research and Development Organisation has developed several high altitude clothing for defence personnel. Here are some such clothing displayed at the Aero India 2019:
1. Battery-operated Arctic gloves:
These have active heating elements, specially designed for aircrew operating at very high altitudes to protect them in temperatures up to minus 30C. They heat up automatically when the temperature drops below 20C, maintaining the temperature within physiological comfort. Advanced materials like non-woven polyester for insulation and wind stopper material for protection against cold wind are used in the gloves.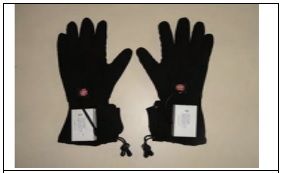 Figure 1. Battery-operated Arctic glove
2. Battery-heated shoe insoles:
The limbs of army personnel deployed at high altitudes and extreme cold weather conditions need more protection as they are highly susceptible to vaso constriction of blood vessels resulting in reduction of blood flow. Hence, battery-heated shoe insoles have been designed in which heat is produced in the soles and keep the feet warm.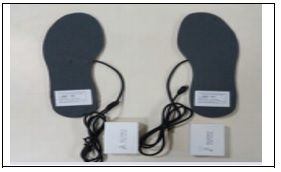 Figure 2: Battery-heated shoe insoles
3. Battery-heated jacket:
This jacket has also been developed by DEBEL in collaboration with one of the garment exporting units in Bangalore and uses the same concept like heated gloves. It comprises heating tapes, temperature controller and lightweight lithium ion rechargeable batteries. The jacket is made up of multi-functional layers and each layer has a definite purpose.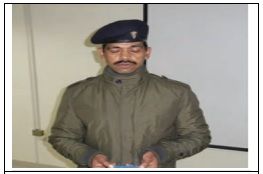 Figure 3: Battery-heated jacket
4. Flame retardant winter jacket:
The flame retardant (FR) winter flying jacket is specially designed for pilots who operate in high altitude conditions. The garment is made from functional fabrics to provide thermal protection, breathability and water repellency. The aircrew can use this garment alone or in combination with thermal vests, depending on the severity of the climatic condition and operational requirements.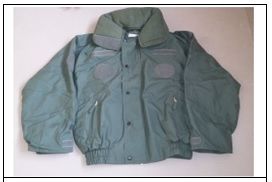 Figure 4: FR winter jacket
5. Electrically-heated jackets and trousers:
This is made up of a three-layer fabric material and is an extended version of electrically-heated glove made by DEBEL.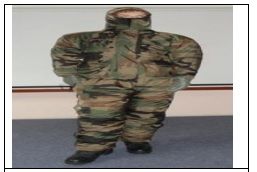 Figure 5: Electrically-heated jackets and trousers
6. Electrically-heated blanket:
This is also an extended version of heated gloves and specially developed for soldiers and paramilitary troops operating in extreme cold climate. Unlike commercially available heated blankets that work on 220 V AC, this blanket developed by DEBEL works on 24 V DC and hence prevents electrocution when any liquid, snow or ice falls on its surface.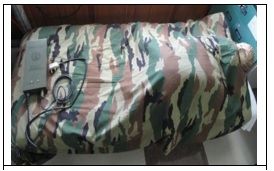 Figure 6: Electrically heated blanket
7. Fur-lined boots:
This piece of personal protective equipment has been designed to provide smart, durable, light-weight and comfortable boots for use by the Indian air force crew in extreme cold conditions.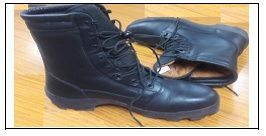 Figure 8: Fur-lined boots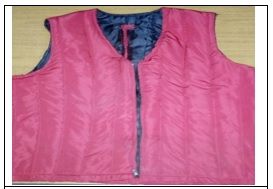 Figure 9: Self-heated jacket.
Source: Sayingtruth.com
Apart from these, students of the Technological Institute of Textile & Sciences, Bhiwani, have developed a special 'self-heated jacket' to provide relief to soldiers in the temperature range of −34C and −51C. The jacket is lined with four layers of thermo electric generator (TEG) that ensures that they get activated by the body heat of the wearer and keep him warm. The jacket consists of simple layers: a wind/water-proof outer layer, an insulation layer, an electric heating layer and an inner layer.
Meanwhile, the Indian Space Research Organisation (ISRO) has developed the world's lightest material called silica aerogel or blue air, an excellent insulator that can be used as filler in soldier's uniform to keep them warm. This material has excellent thermal resistance, and is light-weight.
Note: All images except Figure 9 are taken from DRDO's Aero India 2019 website.
References:
1.https://theprint.in/defence/indian-army-unwilling-to-demilitarise-siachen-glacier-as-pakistan-cannot-be trusted/323263/#:~:text=This%20comes%20after%20an%20avalanche,down%20to%20%2D70%C2%B0C
2. http://ittaindia.org/?q=node/105
3. https://aeroindia2019-drdo-ada.com/2018/11/23/debel-product/
4. https://www.sayingtruth.com/special-jacket-for-defence-by-bhiwani-students/
5. https://thelogicalindian.com/news/isro-makes-worlds-lightest-material-that-will-keep-siachen-soldiers-warm/#:~:text=Now%2C%20ISRO%20has%20developed%20the,lives%20at%20the%20Siachen%20glacier.