In view of their special technical attributes, geo-technical textiles or geo-textiles are being increasingly used globally to address dangers to infrastructure caused by degradation and natural disasters. In India, too, geo-textiles are gaining greater acceptability, and with the government setting aside ₹427 crore for use of geo-textiles between 2015 and 2019, prospects for the industry look bright, reports Sudha Passi.
<![if !vml]>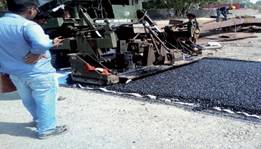 <![endif]>
With the Indian geo-textile market size pegged at ₹1,108 crore at a growth rate of 22 per cent by 2017, and a host of supportive measures by the government, prospects for the industry look bright on the South Asian peninsula as opportunities are huge due to the sheer scale of projects.
"The scope is very good for the next 15-20 years in India now that infrastructure projects are being geared up," Aditya Agrawal, CEO of Jeevan Non Woven, a leading manufacturer and exporter of geo-technical textiles or geo-textiles, told Fibre2Fashion. He underlined that it is a segment with huge growth potential at the domestic as well as global level.
Globally, countries have used geo-textiles in construction projects, road building, erosion control, etc. So, the products have a proven track record as technology for favourable use in the country in terms of cost effectiveness and environment non-degradation, said Agrawal.
"Big reserves are in geo-textile applications, where high-value textiles save costs and improve durability of roads, river banks and landfills. Higher demands on environmental protection will boost the filtration segment," Eric Scholler, member of the executive board of Groz-Beckert, a German manufacturer of technical textiles equipment recently told technicaltextile.net, a Fibre2Fashion initiative.
The global market for geo-textiles, growing at a CAGR of 10.59 per cent between 2014 and 2019, is projected to reach $8,632.83 million by 2019, according to a report by leading market research agency Markets and Markets. The Asia-Pacific region, especially India and China, is projected to gain the major market size by value by 2019. Asia-Pacific dominated the geo-textiles market in 2013, states the report, Geo-textiles: Global trends and forecasts for 2019.
Acknowledging the significant role of geo-textiles in addressing traditional civil engineering solutions, especially in Northeast India, the Indian government has set aside ₹427 crore for use between 2015 and 2019 to promote and increase the use of geo-textiles in road construction, hill protection and lining of reservoirs for water retention.
The Union Ministry of Textiles has with active involvement of the eight north-eastern state governments formulated a Scheme for Promotion and Adoption of Geo-textiles in the Northeast where there is "clearly a high demand" in view of frequent damage to infrastructure due to heavy rain and landslides. It has already initiated the mechanism for appointing a project coordinating agency for the scheme by issuing an expression of interest (EoI) in this regard in September 2015.
<![if !vml]>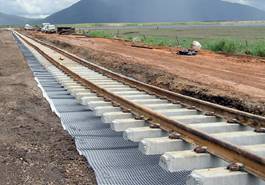 <![endif]>A lot of hope is being pinned on the successful implementation of this scheme and the use and adoption of the geotechnical textile technology, say official sources, pointing that it will not only create a sustainable market for the geo-technical textiles products in the Northeast but in the whole country.
The Working Group on Textiles and Jute has projected the geo-textile Indian market at ₹1,108 crore for 2012-17, the most significant segment being the road sector due to its "direct applicability and sheer magnitude of projects."
The term geo-textiles specifically refers to permeable fabric - woven or nonwoven - made of natural or synthetic fibres that are used in geological applications involving rock, soil, or other natural elements in civil engineering projects. They are mostly manufactured from raw materials like polypropylene (PP), polyethylene or polyester with varying mechanical and hydraulic properties depending on their use. Based on their desired performance specifications such as load bearing ability, tear resistance, etc, they can range anywhere from 40 GSM to over 3,000 GSM. For example, the thicker variety is used in landfill end uses.
Geo-technical textiles are being increasingly used globally to address dangers to infrastructure caused by degradation and natural disasters. They are gaining increasing acceptability both in the domestic and international markets in view of their special technical attributes such as drapability, inertial strength, ecological efficiency, low maintenance, customisable fabric, fineness, low extensibility and commercial advantages.
Globally, many developed economies have formulated clear guidelines for the usage of technical textiles in specific applications. The Indian government too is in the process of firming up guidelines and standards and specifications for use of geo-textile products as well as projects where they are used.
India also allows 100 per cent FDI under the automatic route to facilitate integration of state-of-the-art technology in manufacturing processes and end products. This has enabled global players to set up manufacturing plants either alone or in partnership with Indian exporters. Among foreign players that have set up operations in India are Maccaferri and Strata Geosystems, according to a note by the textiles ministry. The Union government also offers import concessions under technology upgradation fund schemes up to 5 per cent on specific machinery. Additionally, several state governments have their own concessions on land registration, electricity, stamp duty fees and so on to invite investments and entrepreneurs in this field.
According to industry monitor plastemart.com, the global geo-textiles market is dominated by top six companies catering to 40 per cent of the global demand. What does this augur for smaller or domestic players in the field?
<![if !vml]>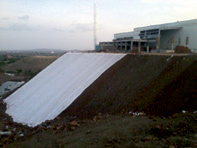 <![endif]>At present it is not mandatory to integrate geo-textiles in infrastructure projects. Thus, project consultants take specifications of foreign manufacturers and incorporate that in their designs. So, when tenders are floated their products are used, said Agrawal acknowledging that "that is a threat."
Right now there is no BIS code on geo-textiles. Once industry standards and specifications are in place, any consultant will refer to those standards, he said, aware of the government exercise in this direction. It could take at least two more years for standardisation to take effect, he speculated.
Referring to the demand-supply curve in India, he said, at present domestic manufacturers are not even producing to match their installed capacities. As the demand picks up, so will their production, he said. "At present it is not possible for any technical textiles manufacturer to earn (profits) just from geo-textiles in India," said Agrawal, pointing towards the autotech textile being his cash cow for now.
Also, awareness about geo-textiles in India is negligible outside the laboratories concerned and the construction industry. Synthetic does not always mean "hostile" to the environment, explained Agrawal. They are arresting environmental degradation. There would, in fact, be environmental issues if the drainage and filtration did not occur properly.
Nowadays, natural fibres like jute and sisal are being incorporated into geo-synthetic fibres in environment protection projects. Such fibres are preferred over polymers in areas where their bio-degradation is required while enabling seedling protection for hill slope protection.
Geo-synthetics are also gaining currency across the world in the waste management industry as they offer isolation and protection (preventing seepage) to the surrounding soil substrate. By any yardstick, geo-technical textiles are poised to command a big domestic market if sustained efforts to popularise them are continued. So India is a market no geo-textile company can afford to ignore.
Image Courtesy: Jeevan Non Woven