Abstract
The silk waste generated during conversion of cocoon to fabric, presently being used for manufacture of yarns of spun silk, noil, throwster and carpet, besides hand spun, can be more effectively utilized for development of silk Nonwoven fabrics for increased value addition and diversified applications.
Introduction
Non-woven fabric is manufactured by putting small fibers together in the form of a sheet, and then binding them either with chemical, thermal or mechanical bonding to form a fabric. These fabrics are not strong unless reinforced by a backing and do not stretch. Non-woven materials are mainly produced from manmade fibers viz., rayon, polypropylene and polyesters and used in areas like hygiene (baby diapers, feminine hygiene and adult incontinence products, wipes, bandages and wound dressings); medical (isolation and surgical gowns, drapes, covers, scrub suits and caps); technical (wall coverings, electric insulation, insulation backing, circuit board reinforcement); filters (gasoline, oil, air, water, coffee, tea bags) and others (carpets, pillows, cushions, upholstery padding, consumer and medical facemasks).
In India, the non-woven industry is evolving. As the price of petro-based materials like polypropylene and polyester continues to be high, and eco-concern is increasing among the consumers, new technologies are emerging; natural fibers are being used, creating non-woven with attributes never seen before.
Silk non-woven
An attempt has been made to develop silk non-woven fabrics from silk reeling waste and hard waste generated during twisting and weaving on shuttle-less looms. In the process of conversion of cocoon to fabric, about 4000 MT of silk waste of different forms is being generated, annually. At present, this waste is used for manufacture of spun silk yarn, noil yarn, throwster yarn and carpet yarn, besides hand spun yarn. This waste can be more effectively utilized for development of silk non-woven fabrics for diversified end uses. Also, the hard waste generated to the extent of 300 MT in silk twisting and weaving by 100% export oriented units (EOUs) is not being used for any value added purpose except in manufacture of coarser yarn for carpets. The same may effectively be utilized for development of non-woven silk fabrics.
Process and products
Preparation of the fibre: The hard waste was sorted and separated from other non-silk materials and cotton leno threads. The lengthier yarns were cut into the size of 3 to 4 inches.
Processing (Stripping of colour, degumming and bleaching): The waste was then treated with sodium hydrosulphite (Hydrose) at 70-800C and pH of 9.5-10, for removal of dyes present in the waste. The waste was degummed with soap and soda for removal of sericin. Further, the material was bleached with Hydrogen peroxide.
Opening and carding: The material, with and without decolouring and bleaching, was processed separately in opening and carding machines. After carding, it was not possible to take out the opened fibre in the web form from carding machine due to smoother surface and absence of crimps in fibre. The web was converted into sliver form.
Web formation and needle punching: The needle punch process is illustrated in Fig.1. Needle punched non-woven fabrics are created mechanically, orienting and interlocking the fibers of a spun bonded or carded web. This mechanical interlocking is achieved with thousands of barbed felting needles repeatedly passing into and out of the web.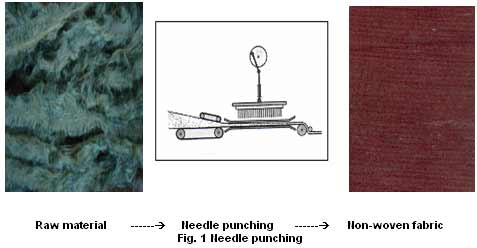 The sliver collected from the carding machine were fed along with the polyester net fabric on one side, parallel to form sheet extending to full width (45 inch) in to the needle loom. The bonding of the sliver web was done by needle punching where thousands of oscillating needles penetrate the web in the vertical direction. The needles push and pull the fibres in vertical direction causing entanglement and create a stable web. The once punched web was fed again with another layer of slivers on opposite face and punched.
The needle punching was done in two stages in two needle looms with different needle board of coarser (1500 needle) and finer (10000 needle) at a speed of 600 rpm and thus, forming non-woven fabric ranging from 100 to 400 gsm. The polyester net fabric in a sandwich or reinforced fashion in between the layers of silk web, holds it together and supports the entanglement of fibres.

Dyeing, printing & finishing: The non-woven fabric was then dyed/printed and decatised (finishing) for different end uses. The finished fabrics are shown below.
Outcome
With this, a beginning has been made for the development of silk non-woven from silk reeling waste and hard silk waste generated during weaving on shuttle-less looms for value addition. The other wastes like pierced and cut cocoons are also being tried. The web formation by air laid method and bonding by chemical/needle punching is being attempted. Based on the end-uses, non-woven fabric of specific weight can be produced for various applications including technical and medical textiles. And, the possible end-use applications are rather unlimited and non-woven silk fabrics could be a potential input in the areas of inner lining for warm garments, head wears, ties, garments and blankets, carpets, furnishing and home apparels, automotive carpeting and insulation, wall coverings, handicrafts like wall paintings, wall hangings, wall coverings, gift tags, purse/wallets, table mats, matting for pictures, journal/book/album covers, greeting/invitation/business cards, lamp shades and many more. Perhaps, the imagination would be the limit.

Nonwoven Carpet
To read more articles on Textile, Industry, Technical Textile, Dyes & Chemicals, Machinery, Fashion, Apparel, Technology, Retail, Leather, Footwear & Jewellery, Software and General please visit http://articles.fibre2fashion.com

To promote your company, product and services via promotional article, follow this link: http://www.fibre2fashion.com/services/article-writing-service/content-promotion-services.asp