How was it for the technical textiles sector to sail through a very challenging 2020 and step into the next year – a year of hopes & possibilities.
The global textile market is estimated to have declined from USD 673.9 billion in 2019 to USD 655.2 billion in 2020 at a rate of -2.8 per cent. The decline is mainly due to economic slowdown across countries owing to the COVID-19 outbreak and the measures to contain it. Now the market is, however, expected to recover and grow at a CAGR of 7 per cent from 2021 and reach USD 795.4 billion in 2023.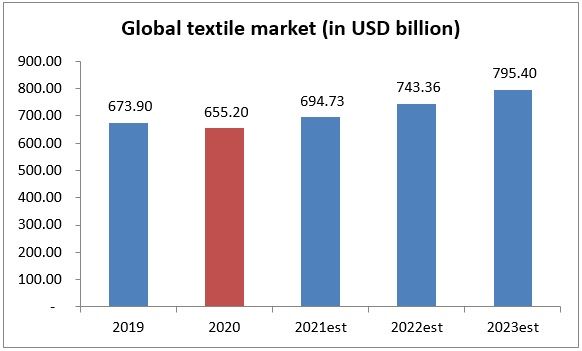 Source: Marketandmarkets report – The Textile Global Market Report 2020-30: COVID-19 Impact and Recovery
Asia-Pacific region is going to remain the largest market followed by Western Europe, while Africa will still be the smallest contributor in global textile market. Among others in textile sector, Technical Textiles (TT) is one segment that is ready to play an important role in the coming years.
Technical Textiles
TT products are functional products with end-use applications across multiple non-conventional textile industries such as aerospace, healthcare, construction, automobile, and packaging among others. TT products are manufactured using natural as well as man-made fibres and exhibit enhanced functional properties like higher tenacity, excellent insulation and improved thermal resistance. Useful physical properties such as durability, elasticity, and versatility make technical textiles even more useful in times of changing climate, global warming, and complex industrial processes.
Global Market Outlook
Invest India estimates global TT market at USD 179.14 billion (2020), projected to touch USD 220 billion by 2025. The market is expected to grow at a CAGR of 4.2 per cent contributing 25-27 per cent share in global textile market. In TT market terms too, Asia-Pacific region dominates the market with 40 per cent share, with North America accounting for 25 per cent and Europe at 22 per cent.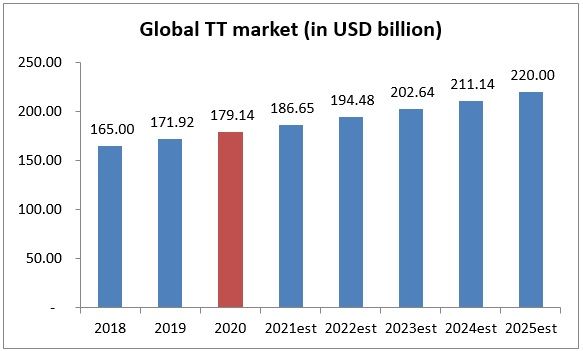 Source: Invest India
Europe's TT market is projected to grow at a CAGR of 4.8-5.2 per cent between 2018 and 2022, driven by Buildtech, Indutech, Mobiltech, Oekotech and Sportech segments.1 In terms of markets, Germany, France and U.K. will continue fueling Europe's TT growth. North America's TT market is estimated to grow at a CAGR of 3.1- 3.3 per cent with Geotech, Indutech, Mobiltech and Protech being main growth drivers. However, it is Asia-Pacific region which is expected to grow at a CAGR of 5.6-5.8 per cent between 2017 and 2022. The region dominates TT market owing to rapid urbanisation, increasing awareness among user population, rise in disposable income, new technological advancements in medical, automobile, and construction industries aided by the easy production, low-cost labour and conducive government policy support. Industrialisation and economic growth of India and China are also set to act as catalysts for region's growth. TT applications of Buildtech, Indutech, Meditech, Mobiltech, Protech and Sportech are expected to grow higher than other sub-segments.
Buildtech
An Oxford report forecast the global need for infrastructure investment to reach USD 94 trillion by 2040, and a further USD 3.5 trillion will be required to meet the United Nations' Sustainable Development Goals for electricity and water. Asia, hosting highest developing populations, alone has the largest overall need, requiring just over 50 per cent of global investment in infrastructure suggesting the scale of infra development to take place in the region. This is in line with forecast of Asia-Pacific region's dominance. Thus, improving infrastructure in developing economies due to increase in spends and increasing awareness and usage of products like architectural membrane, scaffolding nets etc. will aid Buildtech growth.
Indutech
Over the last 20 years, manufacturing value added per capita in developing Asia and Oceania has steadily increased - by three and a half times since 1998 - with the result that the region overtook the transition economies in 2009 and Latin America and the Caribbean in 2015.2 More recently, Chinese manufacturing was hit by COVID-19 pushing the overseas clients to seek alternatives. Asian manufacturing industry, so far concentrated in China, has begun shifting to other Southeast Asian countries. The shift in the region is not temporary and will continue getting bigger in future. This will help Indutech demand to reach other Asian geographies, fuelling the growth.
Meditech
Emergence of COVID-19 increased the demand for medical products and services in global healthcare sector. TT has been contributing since long but with growing demand for face masks, PPE kits, protective shields and other medical equipment required for much-awaited vaccination campaigns, TT has a special contribution to make. Growth in healthcare sector will only accelerate the demand for such products in future. World population is also growing especially in Asia-Pacific region, offering a potentially large market for Meditech. Additionally, there has been an increased awareness and acceptance of Meditech across the world and with new technologies helping the product development the segment is slated to see rapid expansion. Experts also feel that in the coming years, there will be a considerable demand for medical textile from developed regions, owing to rise in awareness about personal hygiene.
Future Market Insights - "The global anti-microbial wipes market is to witness a surge in demand and expected to surpass USD 7 billion by the end of 2020, growing at a CAGR of 10 per cent between 2020 and 2030. North America and Europe are expected to dominate this market over this period and South Asia will emerge as a lucrative market."
Mobiltech
Mobiltech application is being primarily driven by growth in automobile industry leading to increased usage of products such as seat belts, airbags and automotive carpets despite industry's temporary slowness in 2020. With evolving motor safety regulations world over, demand for safe and improved motor parts and equipment provided by TT is increasing. Automotive industry contributes ~4% of world's GDP. Last year industry produced 92 million vehicles globally and its projected market will be USD 9 trillion by 2030. With such immense growth Mobiltech, having Asia-Pacific as global manufacturing hub, is going to be among the key segments of global TT sector.
Protech
Unrest in the Middle East, fight against global terrorism, perpetual border tension in south Indian sub-continent and general advancement in defence tech are the key factors which have forced the nations concerned to enhance their defence spends. The defence industry needs constant upgradation and improved protective suits, equipment and armours. At the same time, there is a growing awareness about fire retardants and their use and chemical protective clothing that rely on Protech expertise. Evolving regulations for protective clothing usage also demands new technology and development in Protech products.
Sportech
In 2020, the segment suffered with a slow demand under the shadow of lockdowns and social distancing norms worldwide. Otherwise it is one of most lucrative application segment that has been and will be driven by increasing national and international tournaments across the globe, improved sports infrastructure in developing economies at grassroot level and strong tradition of top sporting nations, and, of course, increasing popularity of sporting events and leagues around the world. Continuous shift towards better healthy lifestyle and fitness is also spiking up TT-enabled sportswear demand. Post-pandemic revival will see B2B and B2C consumers embracing health, fitness and sporting activities more generously.
Geotech
Fifty-five percent of world's population lives in urban area. This share is expected to reach 68 per cent by 2050 - resulting in addition of another 2.5 billion people to urban areas. Ninety percent of this increase will be contributed by Asia and Africa.3 India, China and Nigeria are forecast to account for 35 per cent of the projected growth. By 2050, India, China and Nigeria will have added 416 million, 255 million and 189 million urban dwellers respectively. Urbanisation, besides upgrading existing dwelling spaces, will acquire new spaces requiring geotechnical engineering help and Geotech products. Factors such as increasing awareness of the benefits of the usage, significant investment in infrastructure planning and active promotion by governments for the usage of Geotech products will drive segment's future growth.
Other Niche Markets
INDA - "North American nonwoven production growth exceeded US Real GDP growth for the sixth consecutive year. Production growth exceeded capacity growth for the third consecutive year and industry's overall operating rate in 2019 improved for the third consecutive year."
Industrial Protective Clothing
The global industrial protective clothing fabrics market is expected to grow from USD 2.3 billion (2018) to USD 4.2 billion (2027).4 Between 2019 and 2027 its CAGR will be about 7 per cent, largely driven by factors like implementation of strict safety regulations and growing consciousness and awareness in the industrial sector. As a niche, protective clothing for women is gathering steam too as there is a dearth of good alternatives. A fast-growing lucrative regional market over the forecast period would be the Asia-Pacific region led by India, China and the ASEAN countries. Europe will demonstrate decent growth over the next few years owing to presence of high safety standards and strong players.
Ceramic Textiles
The global ceramic textiles market is projected to grow at a CAGR of 8.5 per cent from USD 103.5 million in 2020 to USD 183.1 million in 2027, wherein, US market stands at USD 28 million (2020) and Chinese market is expected to grow at a CAGR of 11.4 per cent to reach USD 38.1 million (2027).5 Other noteworthy geographic markets are Germany, Japan and Canada, projected to grow at 6.6 per cent, 5.7 per cent and 7.2 per cent respectively over the forecast period.
The Refractory Ceramic Fibre (RCF) segment, projected to record 9.1 per cent CAGR, will achieve market size of USD 88.6 million (2027). Growth in low bio-persistent segment has been revised at 8.1 per cent CAGR for the period owing to implications of the COVID-19 pandemic and its induced economic crisis. In the global polycrystalline segment, US, Canada, Japan, China and Europe will drive the projected 7.2 per cent CAGR for the segment. These regional markets, accounting for a combined market size of USD 17.7 million in 2020, will reach a projected size of USD 28.8 million by 2027. China is expected to remain among the fastest growing markets in this cluster. Led by countries such as Australia, India, and South Korea, the market in Asia-Pacific is forecast to reach USD 25.8 million in 2027, while Latin America will expand at a 9 per cent CAGR through the analysis period.
Recap 2020
The year 2020 began with usual activities in TT sector and continued till March, when virus was no more restricted to Wuhan, China. From April to August the sector remained busy in manufacturing and providing face masks, medical gowns, equipment and PPEs for medical community, frontline workers and general public.
To contain the impending spread of the virus all public events were cancelled, and facilities temporarily stalled. April-scheduled Index20 - the biggest nonwovens trade show, had to be postponed to later part of the year and Industrial Fabrics Association International (IFAI) had to switch its Smart Fabrics Summit to a fully virtual event the same month. Americas Apparel Producers' Network (AAPN) opened online sourcing centre connecting its supplier and producer members to make masks, gowns and other urgently required medical garments and sewn products. Market forces began working too with steep rise in prices of raw material and face masks. Plants switched operations and manufacturers invested in increasing their manufacturing capacity to produce masks, protective gowns, PPE kits etc. To minimise the disruption, companies like UK's Shape engaged with suppliers to ensure stable production with sufficient contingency stock sensing upcoming lockdown. Technology group Andritz suspended its AGM and sales & earnings forecast for the fiscal 2020 and initiated temporary cost-saving measures in many countries where the Group is active. Italy's Maglificio Ripa developed new fabrics for protective masks. German Reifenhauser Reicofil temporarily converted two of its meltblown test lines to production suspending all trial activities. Industry body EDNA requested European Commission's support in allowing functioning of production units manufacturing disposable hygiene and medical products for the sake of public welfare.
September onwards, with gradual unlocking, sector started resuming back its normal activities and business was in focus once again to compensate for the loss.
M&As, Investments & Collaborations
While on one side, COVID-19 pandemic imposed unmindful obstruction on sector's regular functioning, disrupting forward looking strategies and altering market trends, and on the other hand, world witnessed many M&As and new partnerships & collaborations building, especially in the second half of the year:
December
International technology Group Andritz and Suominen, a global manufacturer of innovative and sustainable nonwovens, have been collaborating for the past few years, resulting in Suominen developing new generations of wipes with Andritz helping in maintaining its production lines.

Composites One, North America's leading distributor of composite materials, joined hands with 3M Aerospace in a new alliance enabling Composites One to service the aerospace industry with 3M OEM-specified film adhesives, primers, and surface protection products.

Braskem, the America's largest polyolefins and bio polymers producer, collaborated with Encina Development Group (Encina) - a leading provider of solutions to produce renewable chemicals, to work together for producing circular, recycled polypropylene (PP).

Arkema - the leader in adhesive and coating solutions,acquired Colorado Photo polymer Solutions (CPS), a US-based company with strong technical expertise in photo polymer formulation for the fast-growing 3D printing market, with applications in the medical, composites, construction and consumer goods sectors.

Arris, a California-based manufacturing tech pioneer enabling the use of high-performance composites in mass-market products, got anew strategic investment partner in Robert Bosch Venture Capital (RBVC).

Dutch Abn Amro bank's Energy Transition Fund (ETF) took over 34 per cent of the shares in Danish composites manufacturer Fiberline Composites, imparting it financial capability to expand activities in the areaof composite pultrusions for wind turbine blades.

Atlas Holdings sold Novipax - the leading producer of absorbent pads in the US, to Acon Investments - an international private equity investment company based in Washington, DC. The trays business, previously part of Novipax, is not included in the transaction.

International technology group, Andritz, signed an agreement with Laroche, to acquire LM Industries, comprising Laroche SA and Miltec SA,France. Andritz will take over all Laroche entities and their business worldwide.

A.Celli partnered with Ihsan Sons with supply of a Doctor Rewinder designed for the removal of any defects in 100 per cent cotton spunlace reels.

Dilo Group, a supplier of complete lines for nonwoven fabric production, announced a partnership with Sicam, a rapid prototyping &additive manufacturing company.

Royal DSM, a global science-based company in nutrition, health and sustainable living, announced a strategic partnership with Team Sunweb.
November
The Utah Advanced Materials and Manufacturing Initiative(UAMMI) joined hands with the Graphene Council - the largest trade and professional society for research, development and application of graphene and related advanced materials, in a deal.

Jones Family of Companies, a leader in sustainable nonwovens products across a range of industries, took over Rontex America to strengthen its presence and capabilities in its core nonwovens markets.

Valmet - the global supplier of filter fabrics and industrial textiles, decided to invest in filter fabric manufacturing in Pune,India to improve its customer service and delivery times in the Asia-Pacific and Middle East regions. The new unit will start operation in the Q2 of 2021.

Symmetrix Composite Tooling, a full-service composite tooling manufacturer, entered into a supplier/technical partnership with NewYork Yacht Club American Magic.

Toyobo decided to set up a JV with Bangkok-based Indorama Polyester Industries PCL (IPI) - a part of polyethylene terephthalate (PET) producer, Indorama Ventures PCL, to produce yarns for automobile airbags. The JV firm will build a new plant on the IPI factory site in Rayong Province, Thailand.
October
Softlab9 Technologies signed a letter of intent (LOI) for acquiring Kosan Medical Company to begin sales of personal protective gowns and coveralls in Canada. The deal will impart Softlab9 100% exclusive rights to distribute isolation gowns, coveralls and other PPP in Canada.

Euro Wipes, leading manufacturer of impregnated fabric products in France, and Fibroline, leader in dry powder impregnation solutions,entered into a strategic collaboration to develop eco-friendly products such as impregnated wipes and sheet masks for hygiene, cosmetic and healthcare applications.

Sanitized and Ferro-Plast entered into a sales partnership to market the Sanitized antimicrobial additives for hygiene and material protection for polymers in Italy.

Age Automotive Interiors, an Asahi Kasei company, completed the takeover of the automotive fabric business of Adient. Sage Automotive Interiors paid USD 175 million and received regulatory approvals under the agreement of March 5, 2020.

Brazil-based Fitesa completed the acquisition of the assets of Fibre Dynamics (FDI), a producer of engineered nonwovens.
September
In its fifth acquisition, AEI Partners-created platform Applied Composites took over Alliance Space systems, a leading, vertically integrated provider of high-performance composite structures and assemblies for the commercial, civil and government satellite market.

VDL Groep and Royal DSM established a JV -- Dutch PPE Solutions, for production of medical face masks and to set up the first permanent production facility for critical face mask components in the Netherlands

Scott Bader and Structural Science Composites (SSC) entered into a five-year partnership under which Structural Science Composites will be able to grow its business with a long-term consistent supply of high-performance material - Crestapol urethane acrylate resin - from Scott Bader.

Ascend Performance Materials completed acquisition ofItalian firms Poliblend and Esseti Plast and expanded its portfolio into other engineered plastics, recycled resins and master batches.

Americhem - globally recognised leading designer and manufacturer of custom colour masterbatch, functional additives, engineered compounds, and performance technologies, announced its acquisition of Controlled Polymers - a leading global manufacturer of customised compounds and master batch for the medical industry and other industries.
August
Argo MRT and Advanced Composites Training joined hands to deliver the most comprehensive hands-on training curriculum in composites available worldwide, supporting aircraft structural repairs, and providing education and employment opportunities for composites technicians.

Teijin Carbon Europe, the Teijin Group's carbon fibre business in Europe, strengthened partnership with the National Composites Centre (NCC) in Bristol, UK with a view to support next generation aerospace manufacturing projects.

Arkema, leader in high-performance materials for composites and photo curable liquid resins for additive manufacturing, invested in American start-up Continuous Composites, strengthening collaboration to speed up 3D composite manufacturing development.

Mitsubishi Chemical Corporation (MCC) decided to make non-stock acquisition of two German carbon fibre recycling companies, CFK Valley Stade Recycling GmbH & Co KG (CFK) and carbo NXT GmbH (carboNXT), through its Swiss subsidiary Mitsubishi Chemical Advanced Materials AG, as a part of the company's efforts to promote the circular economy.
July
Freudenberg Performance Materials, a leading global supplier of innovative technical textiles for apparel, automotive and leather goods,partnered with the Nonwovens Institute at North Carolina State University to manufacture face masks for UNC system universities, NC government organisations and hospitals.

Arkema planned to take over Fixatti, a company specialised in high-performance thermobonding adhesive powders.

Scott Bader and the University of Liverpool have joined hands to set up a company -- Polymer Mimetics -- with the aim to develop a novel polymer chemistry platform.
January-June
Scott Bader Australia Pty Ltd, a manufacturer of adhesives,resins, gelcoats and speciality polymers, acquired the assets of Summit Composites Pty Ltd, which has been distributing Scott Bader's products to the Australian market for over 10 years.

Arris Composites, the pioneer of next-generation composites for mass-market applications, generated USD 48.5 million in series B funding,to be utilized for expanding its proprietary composite manufacturing capabilities and open facilities in the US and Taiwan.

Japan's Daio Paper Corporation reported to acquire all shares of Ozen Kisisel Bakim Urunleri Uretim AS, a hygiene products manufacturer owned by Turkey's Yildiz Holding AS, and make Ozen a subsidiary.It also announced it will jointly acquire with Marubeni Corporation all shares of Brazil's Santher-Fabrica de Papel Santa Therezinha SA in an indirect manner.

Paris-based Tesca - a major supplier of automotive fabrics,value added textile parts and seating components, and Willy Schmitz reported to have closed a transaction whereby Tesca is to acquire the business of Willy Schmitz and its operations, located in Germany.

BuFA Composite Systems, the German-based supplier of tailor-made unsaturated polyester resins and formulations, reported to takeover Manning tree-based AOC (UK), a UK supplier of composite products with over 25 years of experience in providing distribution and mixing service. The acquisition materialised on March 3.

Mitsubishi Chemical Advanced Materials (MCAM), global manufacturer of high-performance materials, reported to take over c-m-p throughits German subsidiary Mitsubishi Chemical Advanced Materials.

WHI Global, a portfolio company of RVE Partners, took overAero-Bond Corporation through affiliated entity Aero bond Composites - a Massachusetts-based manufacturer of composite structures and assemblies for aerospace and defence applications.

Ahlstrom-Munksjo - a global leader in sustainable and innovative fibre-based materials, completed the sales of its glass fibre reinforcement business in Mikkeli, Finland, to Vitrulan Composites Oy - a fully owned subsidiary of Vitrulan Group and part of the family-owned industrial holding Adcuram Group. The transaction was announced on November 21, 2019.
INDIA'S TT SECTOR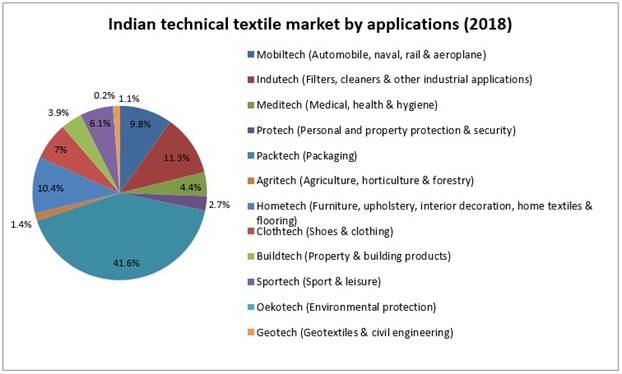 Source: Invest India
According to the Baseline Survey of the TT industry by the Ministry of Textiles, India's technical textiles market is to grow at 20 per cent from USD 16.6 billion in 2018 to USD 28.7 billion by 2021. Thus, the market stands at approximately USD 20 billion in 2020, contributing to about 0.7 per cent to India's GDP and accounting for ~13 per cent of India's total textile and apparel market. In 2018-19, India exported an estimated USD 1.9 billion of technical textiles, with exports growing at a CAGR of 4 per cent over the past four years.
TT During COVID-19
During COVID-19 crisis in 2020, TT ended up helping Indian economy in an unexpected way. Unknowingly, it became even more relevant during the pandemic crisis when global manufacturing went into an indefinite pause and India could neither export nor import critical medical equipment including N95 face masks and protective gears due to complete lockdown. Being entirely import-dependent for PPE kits India was in no position to meet domestic demand for these products. India's manufacturing output of these items was a naught as of March 2020 but within 60 days it was producing 2.5 lakh PPE kits per day, catapulting to the position of second largest manufacturer after China. India is now producing 4.5 lakh PPE kits and over 1.5 crore masks a day. This capability transformation established the importance of India's TT sector and helped it gain a timely entry into healthcare and health textiles.
Opportunity Galore
Attaining the number 2 position in global manufacturing is just the beginning. Now when India is about to implement COVID vaccination programme, TT sector is bound to play an important role carrying enormous responsibility. Starting from production of necessary equipment for the medical team to storage facilities in cold houses for the vaccine - the tasks are going to be widespread and voluminous in a country of over 1.3 billion people. If India's TT sector can live up to this delivery expectation its arrival at world stage is going to be noticeably loud. Not only vaccination it has to continue delivering on mask-providing front as well which is going stay as our essential wardrobe commodity for a long time as would be the PPE kits for healthcare community. At the same time, it has to be aware of the fact that India still consumes only 5-10 per cent of TT products in comparison to some developed countries with 30-70 per cent consumption rate and hence the need to cover this gap.
Government Policy & Support
2020 was full of various initiatives that government took to fuel production in TT sector. In February, the Cabinet Committee on Economic Affairs approved setting up of a National Technical Textiles Mission, with a 4-year implementation period and a total outlay of INR 1,480 crore, to position the country as a global leader in TT. The central government allowed 100 per cent FDI under the automatic route in TT sector thus paving way for global giants such as Du Pont, Procter & Gamble, Ahlstrom, Johnson & Johnson, and Kimberly-Clark, among others, to invest in India. In 2019, the textiles ministry also dedicated 207 HSN codes to TT for monitoring the trade data so as to provide financial support and other incentives to the manufacturers. The Centre has also set up integrated textile parks, eight centres of excellence, and the Amended Technology Upgradation Fund Scheme. TT products will also be extensively utilised in the USD 1.4 trillion national infrastructure pipeline announced last December involving energy, road, railway, urban development, irrigation and health sector projects. Textile ministry is deliberating over an ecosystem model for creating new mega TT parks and upgradation of the government-run existing parks. The government is also working on creating a special fund of USD 13 million for R&D in TT sector.
Future Outlook
India continues to be the preferred destination for textile manufacturing and provides a whole lot of advantages in the area of technical textiles. With growing awareness and consumption of technical textiles, greater innovation in the field and demand from end-use industries, the country is a promising destination.
References:
1 Marketandmarkets report - Technical Textiles Market Report: Global Forecast 2020
2 UNCTAD's Sustainable Development Goals
3 The 2018 Revision of World Urbanisation Prospects report by UN Department of Economic & Social Affairs
4 Transparency Market Research report
5 Global Ceramic Textiles Industry' report released by Reportlinker