Pultrusion is a low-cost way of making highly stiff hollow sections of composites. The advantages of pultruded composite profiles in applications include their lightweight, high strength, resistance to corrosion, and fast, easy installation. These properties make them competitive with standard bridge materials in situations where access and construction present difficulties. Composite materials can be designed to provide a wide range of flexural, impact, tensile and compressive strengths. They can be formed into any shape and colour can be added to allow the structures to blend with most landscapes. Composites cost less than stainless or high carbon alloy steel components that might be used in highly corrosive environments.
Pultrusion is presently one of the favoured forms of manufacturing composite components for thousands of items in critical application areas such as infrastructure, telecom, and utilities, and is becoming a mainstay of the global industrial economy.
According to Lucintel's market research, pultruded products are likely to be one of the most promising categories of the composite industry over the next decade, with the global pultrusion market expected to reach $3.0 billion by 2023 and increase at a CAGR of 4.1 per cent from 2018 to 2023.
The process of converting reinforced fibres and liquid resin into a fibre-reinforced plastic (FRP) via a pulling device is called Pultrusion.
Pultrusion machines use shaping and curling to manufacture rods, tubes, and structural shapes with specified cross-sections. Pultrusion is a low cost with higher-strength method for manufacturing solid or hollow profiles like flat bars, channels, pipes, tubing, rods, etc.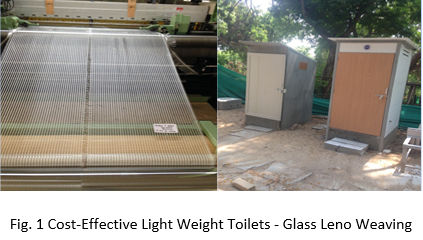 300 Tex Glass Leno fabric (12 mm x 12 mm or 12 mm x 16 mm) can be made on a rapier loom with the following construction particulars:

Layers of aforesaid fabric with epoxy make a thick composite that can be used for lightweight and high strength portable houses/ toilets (a team in ATIRA did such research in 2015 and later it was commercialised under the Prime Minister's scheme of low-cost toilets at every home in villages). Side pillars in these structures were made on Martin Pultrusion Machine by using Pulstrand 4100 4800 tex standard glass roving and resin.

Due to many advantages, pultrusion technology has become commercialised fast in the construction industry and can be seen in recent godowns, parking shades etc where the ceilings are made up of pultrusion structures.
What is the Pultrusion Process?
Pultrusion is a manufacturing process that uses a pulling method rather than a pushing method to transform reinforced fibres and liquid resin into a fibre-reinforced plastic (extrusion). A fibre-reinforced polymer is a name given to the resulting plastic composite (FRP). Pultrusion systems are divided into two categories: reciprocating (hand over hand) and continuous (cat track). Before being fed onto a guide plate, roving (long, narrow bundles) of fibre reinforcements (usually glass or carbon) are precisely positioned by creels for proper placement in the composite. The initial step in the pultrusion process is to constantly pull the fibres through a resin impregnate until they are saturated. Epoxy, polyurethane, polyester, or vinyl ester may be used in the resin bath or wet-out.
Fillers and other additives like colourants, fire inhibitors, and UV retardants are frequently mixed into the process to improve the completed product's appearance, corrosion resistance, and long-term performance. As the saturated fibres exit the impregnate, they enter the "pre former," which helps shape the fibre reinforcements by squeezing off excess resin. The resin-impregnated, fibre-reinforced composite is then dragged through hot steel die to cure the thermosetting resin and solidify the polymer into the desired shape.
The hardened FRP is pulled even more towards the cutting blade, where it can be cut to the appropriate length with ease. During the final step of pultrusion, customised urethane pull blocks keep the finished profiles from cracking, bending, or deforming. The finished product is both sturdy and light.
What are the common uses for pultruded products?
Pultruded items are used in a variety of applications, including those that support:
1.Construction, including window, door, and frame profiles and reinforcements for residential and commercial applications, pipe and electrical supports, and roll-up door panels
2.Utility poles cross arms, and line markers, electrical lines and trunking, wastewater and water treatment components, non-conductive ladder rails, and fibre optic cables are all examples of utilities.
3.Bridge components, corrosion-resistant guardrails, antenna housing, railway crossing arms, and highway sound barriers are all examples of infrastructure.
Pultruded items are also used in a variety of verticals, including:
1. Components of refrigeration
2. Plate armour
3. Disinfecting blades
4. Trays for cables
5. Arrestors that are static
6. Handles for tools
7. Struts made of cored tubing
8. Fencing around the perimeter
9. Decks
10. Guardrails and handrails
The motor vehicle, railway, and aerospace manufacturing verticals, as well as the industrial, construction, electrical, chemical, and civil engineer sectors, all rely significantly on pultrusion for specialised made parts that are robust and lightweight.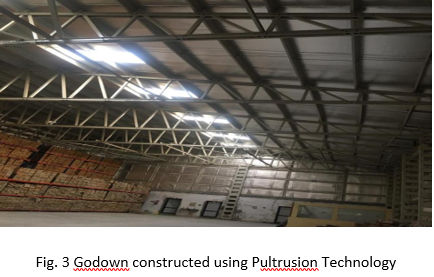 Modern godown with low cost and low weight technology is being constructed with pultruded components.
The objective of aforesaid information is that countries like US, Germany, China are taking advantage of such recent technology for many years while entrepreneurs, established businesspersons have slowly adopted in unwarranted apprehensions. Since 2013, ATIRA and "Center of Excellence" jointly with Institutions like NIFT (National Institute of Fashion Technology), EDI (Entrepreneur Development Institute), IIT (Indian Institute of Technology), etc started research and development in this field so that India do not miss the opportunity of having world-class manufacturing units.
Growth opportunities for pultruded product implementation:
• In the face of limited supply and rising tariffs, the infrastructure industry is expected to be a major growth driver for pultruded composites, providing a prospective alternative for traditional steel rebar.
• Steel rebar corrosion is a major source of asset management costs, costing millions of dollars to fix problems with reinforced concrete infrastructure throughout the course of a structure's lifetime. Over 54,000 of the 615,000 bridges in the United States are rated structurally poor.
• The global market for steel rebar is about $200 million. Glass fibre reinforced plastic (GRP) rebar has been demonstrated to have the potential to preserve its microstructure integrity and mechanical qualities for more than 15 years, according to extensive research. Infrastructure owners can benefit from increased durability, lower life cycle costs, and better long-term performance as a result of this. The Halls River Bridge in Florida is a next-generation bridge project that was created to demonstrate the reliability and benefits of composite materials, including pultruded FRP rebar, which was used in various locations throughout the superstructure, including the deck, barriers, approach slabs, and substructure and sheet pile walls.
• There are numerous more sectors, businesses, and verticals that can profit significantly from pultrusion techniques and products.
• For lower installation, maintenance, and energy costs, corrosion-prone steel sucker rods can be replaced with lightweight pultruded carbon fibre composites in the oil sector.
• Pultruded fibre laminates can provide installation and durability benefits while decreasing attenuation of lower wavelength 5G signals in 5G infrastructure and building elements.
• As pultrusion products acquire market share across all verticals, technologies that aid in non-destructive testing, as well as new breakthroughs in resin systems and curing agents that can safely enhance pultrusion line speed without degrading the final product, will play a major role.
• Over the next five years, the industrial demand for pultruded products is expected to be the most dominant segment. The success and cost-effectiveness of offshore oil drilling operations, cooling towers, and civil engineering projects all rely on high-strength structural composites, which will boost demand for pultruded composites.
Features of Pultruded Products:
• Lightweight: Pultrusion products are 20 – 25 per cent the weight of steel and 70 per cent the weight of aluminum.
• High strength: Stronger than structural steel on a Kg–for-basis.
• Corrosion resistant: Pultruded products will not rot and are impervious to a broad range of corrosive elements.
• Dimensional stability: The coefficient of thermal expansion of pultruded products is slightly less than steel even less than aluminum.
• Non–conductive: Glass reinforced pultrusions have low thermal conductivity so these are electrically non-conductive.
• Electro-magnetic transparency: Pultruded products are transparent to radio waves, microwaves, and other electromagnetic frequencies.
• Parts consolidation: Custom-designed pultrusions allow multiple parts to be designed and fabricated into a single part thus reducing the need to join many fabricated parts together.
• Low-temperature capabilities: Glass-fibre reinforced pultrusions show significant mechanical properties at very low temperatures (-70F). Tensile strength is greater at -21C while impact strength is greater at.
Other advantages of pultruded composites:
Pultrusion manufacturing allows for the production of nearly any constant cross-sectional shape in almost any size, enabling market penetration in a wide range of markets. Pultruded products provide benefits to some sectors that go beyond price competitiveness, thanks to corollary advantages that typical competitor materials can't match.
1. Corrosion resistance: Fibreglass pultruded goods that resist both acidic and alkaline corrosives are appropriate for use in outdoor or harsh settings, making them perfect for use in construction verticals.
2. Telecoms and wireless industries can benefit from the capacity of fibreglass pultrusion to be easily pierced by radio waves for support of two-way radios, cell phones, WiFi, or bluetooth connections.
3. Electrical shock is reduced in charged surroundings because of nonconductive pultruded fibreglass-handled equipment and fibreglass pultrusion ladders that provide insulation.
4. Thermal insulation: Fibreglass pultrusion's reduced thermal transmittance reduces condensation and supports feature installations that require thermal characteristics to be retained through a wall cavity or on a surface.
Pultruded composite materials are ideal for projects that require high dimensional stability, ease of transportation and installation, near tolerance to specified criteria, and little maintenance over a long period of time. It's a long-term, cost-effective solution.
Conclusion:
Pultrusion enables the production of robust, durable, long-lasting, and lightweight structural profiles and components in a high-volume, cost-effective manner. Pultruded items are simple to transport and assemble, and they align perfectly with global sustainability goals.
Aside from the cost-effectiveness of manufacturing, transportation, and asset management, one of the most appealing features of pultruded items is their long-term viability. Pultruded composites are exceptionally durable, have a long service life and low maintenance requirements, and use less energy throughout a product's life cycle, after which many can be recycled. In the face of tariffs and rising shipping costs, the ability of pultrusion composites to substitute steel and aluminum is more important than ever. Composite pultrusion goods account for only 5 per cent of all reinforced plastics manufactured, while aluminum extrusion items account for roughly 15 per cent of all aluminum consumed. This opens the door to tremendous market growth for pultruded items, which can help to promote global sustainability.
About the authors:
Pradeep Kulshrestha is plant head of United Fiber Composites Private Limited, Ahmedabad)/ Visiting Faculty of NIFT, Gandhinagar. Pranav Vora and Nupur Chopra are professors in Department of Fashion Technology, National Institute of Fashion Technology, Gandhinagar. Priyanka Gupta is a student of MFTECH, National Institute of Fashion Technology, Gandhinagar, India.
References:
1. Erection and Working Experience of Martin Durapol R 2410 left hand pultrusion machine at ATIRA.
2. Braiding Pultrusion Technology for Advanced structural Composites by Gerry F Freger.
3. ASM HANDBOOK Volume 21 Composites by Joseph E Sumerak, Jeffrey D Martin
4. https://www.substech.com/dokuwiki/doku.php?id=pultrusion
5. https://www.tencom.com/blog/fibers-in-pultrusion
6. https://www.compositesworld.com/articles/the-fiber
7. https://www.tencom.com/blog/benefits-of-pultruded-products