Carbon fibre reinforced plastic (CFRP) is an advanced material innovation of the 20th century, says Pradeep Kulshrestha.
The country has a good amount of Research and Development (R&D) in technical textiles in the fields of weaving, knitting, nonwovens and allied fields. These are conducted by institutes like ATIRA (Ahmedabad Textile Industry's Research Association), NITRA(Northern India Textile Research Association), SITRA(South India Textile Research Association), SASMIRA (Synthetic and Art Silk Mills Research Association) and DKTE Textile and Engineering Institute.
We will discuss some products which have scope in applications like automobile textiles, geo textiles, medical textiles, nonwoven textiles, protective textiles and packaging textiles. Technical textile industries also contribute funds for R&D for world class manufacturing methods and to ensure standards are maintained. Carbon fibre fabric may be manufactured in uni-direction or bi-direction, according to end use. Specific viruses like the swine flu virus can be filtered. Other uses include purifying water for energy efficient water and physiologically useful drinking water and to reduce SPM released into the environment for a cleaner environment.
Braiding complex structures may be carried out by carbon fibre mostly 3K to 24K or cost effective hybrid structures with glass or aramid. Weaving leno fabric is applicable for textile-reinforced concrete. High strength belts and ropes are being utilised for industrial applications in fields like marine biology, aerospace and sports. The belts are coated to enhance mechanical properties, and strength and relevant tests are carried out in composite labs to ascertain the applications.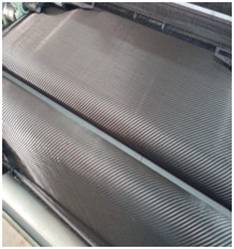 Fig 1. Weaving with direct creel ends passed through passage around drum to whip roller on Rigid Rapier loom.
We tested 24k carbon UD fabric for building beam repairing without removing the superstructure. Axial strengthening of reinforced concrete columns was explored using this material. Overall, it could enhance performance of the specimen tested in the laboratory of Nirma University, Ahmedabad.