The fabric assembly was exposed to heat flux from a radiant heat source. Time to reach 45C (threshold pain temperature at skin) has been considered to be evaluation criteria of the protective performance.
Effect of addition of water on protective performance
To study the effect of addition of water to the sample on its performance, tests were carried out at 1.0 kW/m2 in three conditions: without any fabric assembly, with dry fabric assembly and with wet fabric assembly. The absorbent core was the needle punched nonwoven fabric of 210 g/m2 basis weight, containing 37.5% SAF. Outer layer used in this study was a commercially available plain woven polyester fabric having thread density of 3071 ends/m and 3145 picks/m. The dry fabric sample weight was 14.76 g and it absorbs 94.9 g of water after 15 minutes of immersion in water. In Figure 3, temperature at the back of the sample or at the inner layer is plotted with time.
Figure 3: Time vs. temperature plot at 1.0 kW/m2 with dry fabric, with wet fabric and without fabric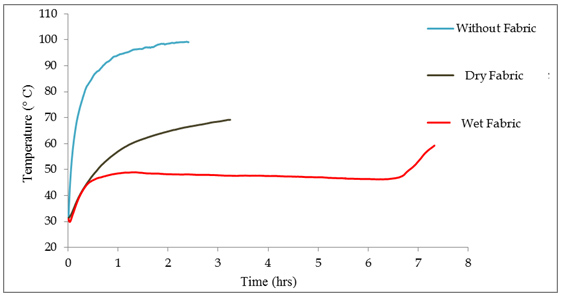 From Figure 3, it can be observed that for any given time period, the temperature increase is highest for tests without any fabric. After test duration of 1 hr, sensor temperature reaches 94C for test condition without any fabric. The dry thermal insulation of fabric sample prevents some amount of heat from reaching to the sensor. So, after same duration the temperature at the back of the dry sample is 57C and for the wet sample is 48C. Although addition of water increases the thermal conductivity of the sample, the phenomena of evaporation of excess water act as buffer between the heat source and sensor, thus preventing more amount of heat from reaching the sensor. As a result temperature increase at the back of the sample is lesser in case of wet fabric as compared to the dry one. Addition of water helps in improving the performance of the fabric assembly.